[This is the fourth article in a series. The first article summarizes Costa Mesa's draft active transportation plan, the second article discusses the proposed Tanager Drive Trail extension and Fairview Park multi-use trails, the third article discusses the plan's implications for Orange Coast College, and the next article summarizes changes to the plan as it progressed through city committees. The plan was adopted by the City Council in June 2018.]
During the Bikeway and Walkability public outreach session on Wednesday December 6, Bill Burke, a resident of Tanager Drive, used his public comment time to address my post on the proposed Tanager Trail extension. Bill, and many of his neighbors, attended the meeting to speak in favor of the overall active transportation plan, but against putting an off-street multi-use trail behind their houses. After the meeting we were able to talk, and I met with him and Mike Chun the following Saturday to discuss active transportation in and around the Tanager Drive area.
The goal of this meeting was to give us an opportunity to share our personal views and experiences, and help us understand the issues better. I came out of the meeting with a much better understanding of their concerns, and a revised view of the situation.
Connections through the Upper Birds
A starting point for discussing active transportation in this area of Costa Mesa is to look at all the connections that are served by the roads and trails in the Upper Birds neighborhood: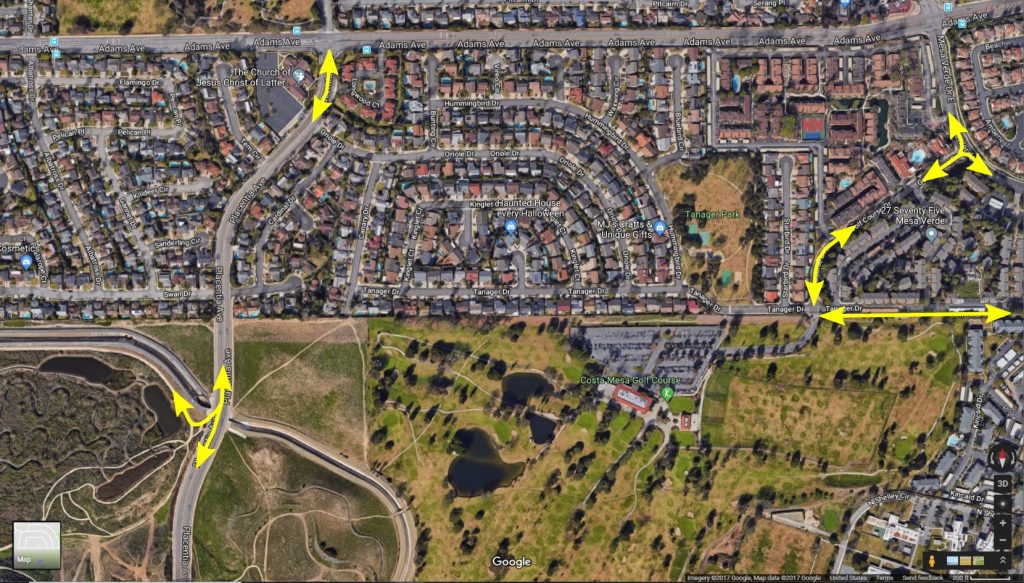 Directly to the southwest is Fairview Park, a prime destination in the area as well as home to a very useful connection to the Santa Ana River Trail and Huntington Beach.
Also to the southwest is Placentia Avenue, which connects to homes, shopping, schools, and more.
To the northwest are homes in Mesa Verde, Estancia Park, Adams Avenue (which leads to Huntington Beach), and additional connections to the Santa Ana River Trail (at Gisler or Moon Park) for those traveling north.
To the southeast is the existing Tanager Drive Trail, which connects to the Harbor Village Apartments, Harbor Boulevard (for shopping and more), the homes in College Park, and Orange Coast College.
To the northeast, along Golf Course Drive and Mesa Verde East, are connections to shopping, additional residences (including the eastern part of Mesa Verde and the many apartments at 27 Seventy Five Mesa Verde), and another route to Orange Coast College.
Creating quality active transportation connections through this neighborhood will allow people traveling between all these points to do so more safely and easily. Students traveling between Orange Coast College and Huntington Beach, people heading to Fairview Park, folks heading to shopping near the Harbor and Adams intersection, commuters on their way to work, families out for a trip to the beach, and more could all use a connection in this region. But currently it's not at all clear how to navigate the neighborhood (e.g., I had a student who lived in this neighborhood for more than a year but didn't realize that the Tanager Drive Trail existed).
Off-street multi-use trail
A way to link all of those destinations in a clear, easy-to-navigate manner would be to create an off-street multi-use trail along the north side of the golf course, as discussed in this post.
Something I made clear when talking with Bill and Mike, and want to make clear here, is that while discussing a proposed extension of the Tanager Drive off-street multi-use trail I am not talking about building a "caged bike trail" that is a narrow strip of bumpy asphalt dominated by a looming chain-link fence. I would be opposed to building such a structure; fenced-in, narrow trails are, among other problems, unsightly (to both trail users and local residents) and unwelcoming to many potential trail users.
When I see plans to put a Class I trail on the north side of the golf course, I see a trail like the one just north of Castaways Park, or the San Diego Creek Trail, or the Harbor Cornerstone Trail: beautiful, wide, nicely lit, well-landscaped trails that are welcoming to all and are designed in such a way as to deter crime to the adjacent properties (e.g., by putting dense vegetation adjacent to property fence lines).
But what I envision may not be feasible in anything approaching the short term. Continue reading Tanager Drive Trail extension update →