Bicycling
I can still remember my dad pushing me down my grandparent's street on my first bike back when I was knee-high to a grasshopper, and since then I've bicycled on and off for decades. For the majority of the last few years I've been a bicycle commuter and a utility bicycler (shopping and running errands on my bike), but recently I've been bitten by the road cycling bug and have been taking my snazzy road bike all over Orange County trying to build my endurance. I currently have two bikes: a 2010 Specialized Allez (an aluminum frame road bike I use for long rides) and a 1994 Bianchi Advantage (a steel frame hybrid bike I use for commuting and utility riding).
I also volunteer with The Bicycle Tree, Orange County's only non-profit bicycle community center; while I have many roles there, one I particularly enjoy is assisting them as a photographer by creating images of the bikes they're currently selling.
Photographer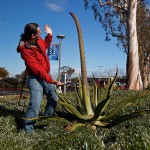 I suspect a camera was thrown into my hand shortly after I could walk, and I've enjoyed filling up rolls of film and memory cards ever since.  I find myself usually taking close-up shots of my subjects, which I generally prefer to be non-chordate in nature (lizards, cats, and a few special primates excepted).  My current setup is a Canon 30D with a 15-85mm EF-S lens, 60mm EF-S macro lens, and a 580 EXII flash, along with a Samsung Galaxy Nexus for quick on-the-road cycling shots.
Biology professor
I teach biology at Orange Coast College in Costa Mesa, CA, focusing on the organismal side of the field (zoology, botany, etc.).  Given that I teach a survey intro course for majors, I dabble in a bit of everything (ecology, evolution, physiology, microbiology, zoology, botany, mycology), but am an expert in none.
Derby, cook, cat lover, and more
I love roller derby (I'm a volunteer official with the Angel City Derby Girls), cooking, my two cats, sleeping in (don't expect to see many sunrise pictures, but early group rides can get me up), and gardening.
Elsewhere on the web
Photography image library: marcperkins.photoshelter.com
Roller derby officiating: http://insidepackref.blogspot.com/
The Bicycle Tree: I volunteer with them, and take most of their bicycle ad pictures.
I'm also on Strava and Facebook; contact me if you're interested.
Disclaimer
This site has nothing to do with my professional activities or employment at Orange Coast College, and is not sponsored, endorsed, or supported in any way by my employer.
Agave photograph by Greg Russell (Alpenglow Images)