[This is the third article in a series. The first article summarizes Costa Mesa's draft active transportation plan, the second article discusses the proposed Tanager Drive Trail extension and Fairview Park multi-use trails, the next article is an update on the Tanager Drive Trail extension, and the fifth article summarizes changes to the plan as it progressed through city committees. The plan was adopted by the City Council in June 2018.]
I've taught at Orange Coast College for fifteen years, and for all of those years I've lived within walking and biking distance of the campus. Being able to bike or walk to work every morning has been a tremendous asset in my life; instead of sitting in traffic fuming, I get to start every day with a short ride or walk through the pleasant Costa Mesa weather, possibly stopping in a park to enjoy my tea if I've got a bit of extra time. I'm happier, healthier, and fitter (and a better teacher) thanks to biking and walking to work.
Existing active transportation facilities near Orange Coast College
But actually getting to OCC by biking or walking right now is … not trivial. The city's existing active transportation infrastructure has significant gaps around the campus – take a look at how few connections there are to OCC with the current infrastructure (especially from the north):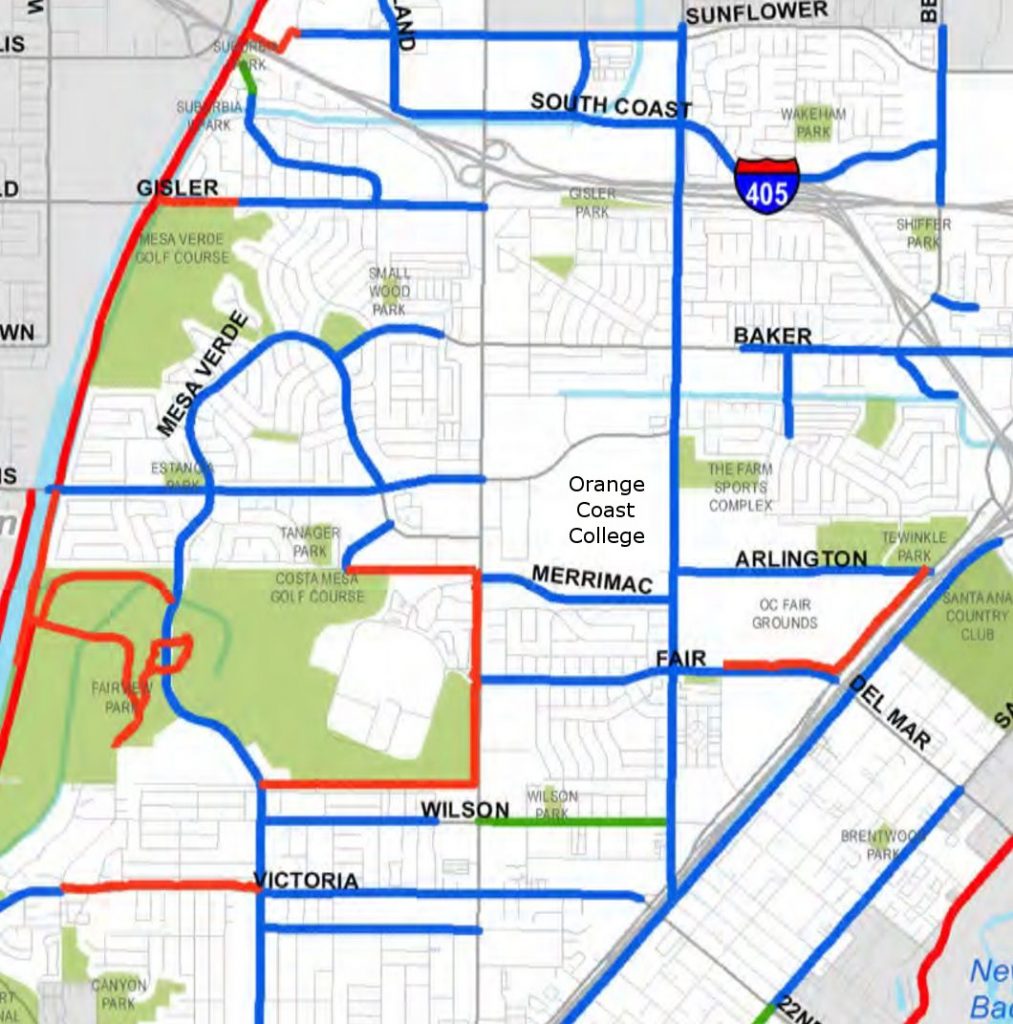 Proposed new facilities near Orange Coast College
The most recent draft active transportation plan the city has posted online includes many proposals that are relevant to Orange Coast College: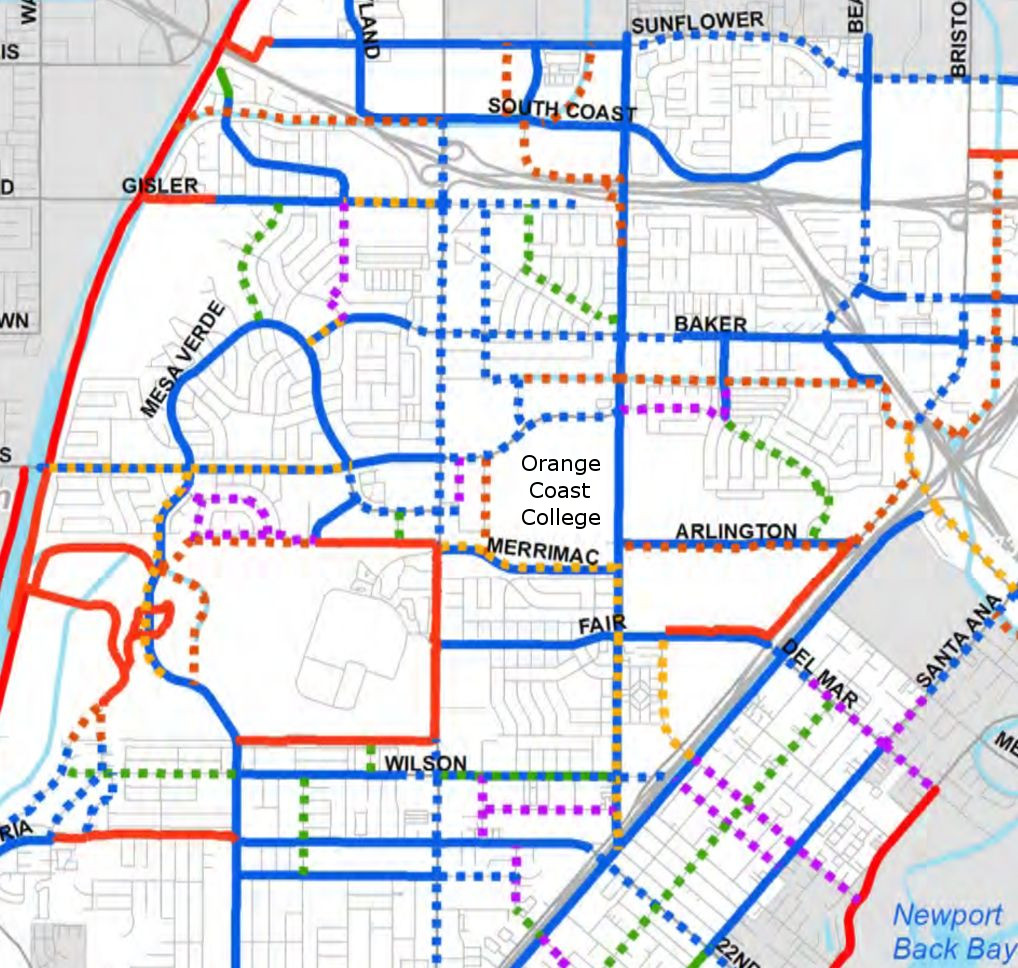 [Note: For more background on the difference between off-street multi-use trails, bike lanes, protected bikeways, bike routes, and bicycle boulevards, see my summary post on the draft Active Transportation Plan.]
There are many improvements relevant to OCC, which I'll cover by general location.
Immediately adjacent to Orange Coast College:
Adams Avenue will gain a bike lane for the entire length of the campus, making this extremely unfriendly street to ride on better for cyclists.
Merrimac Way will become a protected bikeway for its entire length, making it much safer for cyclists and pedestrians.
The western edge of campus will gain an off-street multi-use trail linking Merrimac Way and Adams Avenue, adding a key link in Costa Mesa's north-south transportation infrastructure.
For those coming from the north:
Currently, all of the major roads crossing the 405 (Harbor, Fairview, and Bristol) lack cycling infrastructure at the freeway crossing, making crossing the freeway dangerous and difficult; the best crossing currently is the Santa Ana River Trail's tunnel under the 405 to the northwest of campus. The proposal includes constructing a new off-street, multi-use trail across the 405 just east of Bristol, adding bike lanes to the Bear Street 405 crossing, and an off-street multi-use trail crossing just west of Fairview. These freeway crossings will open up OCC to cyclists north of campus.
Harbor Boulevard, which completely lacks cycling infrastructure to the north of campus, would gain a bike lane.
Pinecreek Drive, Village Way, and College Avenue are lower-traffic alternates to Harbor and Fairview, but they lack bike lanes and they are frequently lined with parked cars, making cycling on them somewhat hazardous. This proposal would add bike lanes to all of those streets (though, unless the street can be widened, I wonder if a bike boulevard would be more appropriate), and add bike lanes on Baker and Gisler to make these back streets more accessible.
The proposed Paularino Channel off-street multi-use trail (running east-west just south of Baker) would allow cyclists and pedestrians easy, safe access from the north east of campus. This trail would eventually connect to the new 405 crossing just east of Bristol, and would connect to a protected bikeway on Bristol.
Coming from the west:
Adams Avenue is the current best connection to the campus from the west, but it is a high-speed, high-traffic-volume street. The narrow bike lanes currently end at Royal Palm Drive, leaving cyclists to merge into the right-hand lane of cars for the stretch from Royal Palm to Pinecreek Drive (including absolutely no crossing assistance at Harbor Boulevard). The new proposal would create a protected bikeway from Mesa Verde East all the way to the Santa Ana River Trail, and also add bike lanes from Royal Palm Drive all the way to campus.
Merrimac connects with the Tanager Drive Trail (that runs north of the Harbor Village Apartments), but this trail currently ends at Golf Course Drive, leaving cyclists to wind their way through residential streets before they end up at a non-stoplight-controlled intersection on Placentia; reaching the Santa Ana River Trail via this route currently requires making an unassisted left turn across Placentia (or riding on Adams). This would be fixed in the proposed plan, as the Tanager Drive trail would be extended all the way to Fairview Park (on unused land the city already has a right-of-way for), and then off-street multi-use trails would connect riders directly to Fairview Park and the Santa Ana River Trail. For anyone coming from the west of campus, this would be a huge change.
Coming from the south:
The protected bikeway on Merrimac would directly connect bicyclists to the Harbor Cornerstone Trail and the Joann Street Trail, allowing students, faculty, and staff to travel along Harbor nearly all the way to Victoria completely off-street (with the Joann Street trail providing an easy connection to Placentia as well).
The protected bikeway on Merrimac would also directly connect to a protected bikeway running the entire length of Fairview south of the campus to Newport Blvd.
Coming from the east:
Arlington Drive's already decent bike lane would be upgraded to a full off-street multi-use trail, which would connect to off-street multi-use trails and protected bikeways along Newport Blvd and Bristol.
Fair Drive currently has a bike lane, but the crossing at the 55 is hazardous. A better connection to the east is Fair Drive to Vanguard Way to Santa Isabel (due to lower traffic volumes and a safer 55 crossing), streets that currently lack cycling infrastructure but would include protected bikeways and bike boulevards under the new plan.
El Camino Drive would turn into a bike boulevard for the portion just east of campus, and would allow for safe connections to the new Paularino Channel Trail running just south of Baker.
The largest oversight in the plan related to OCC that I can see is that there is no proposal to improve the bike facilities on Fairview east of campus between Baker and Merrimac. Currently this portion of Fairview has bike lanes, but they end before every intersection and turn lane (e.g., this video of the bike lane on Fairview), meaning that cyclists must merge into traffic to continue going straight (or ride straight through the right turn lane if they can't merge over). Continuing the protected bikeway on Fairview north of Merrimac to Baker (or at least to the proposed Paularino Channel Trail) would make this area much safer.
Another oversight is the lack of assistance along Adams near Harbor; this exceptionally busy intersection needs more than a bike lane to help cyclists and pedestrians (though a bike lane there would be an improvement over the existing conditions).
Conclusion
The new draft Costa Mesa Active Transportation Plan includes many improvements around Orange Coast College, and if implemented will increase the ability of students, staff, and visitors to get to and from campus using active transportation. It should also help decrease traffic around the campus, one of Costa Mesa's largest employers and top destinations, by encouraging people to bike, walk, skate, or scoot to campus instead of driving.
Regardless of what you do at OCC, or how you get there, this plan should make getting to campus easier and safer.
Advocacy
If you're interested in helping advocate for improved active transportation infrastructure in Costa Mesa, please consider signing my petition. Also, please feel free to send me your thoughts using the "contact" link above; I'd love to work together to make the city a better place.