[This is the fourth article in a series. The first article summarizes Costa Mesa's draft active transportation plan, the second article discusses the proposed Tanager Drive Trail extension and Fairview Park multi-use trails, the third article discusses the plan's implications for Orange Coast College, and the next article summarizes changes to the plan as it progressed through city committees. The plan was adopted by the City Council in June 2018.]
During the Bikeway and Walkability public outreach session on Wednesday December 6, Bill Burke, a resident of Tanager Drive, used his public comment time to address my post on the proposed Tanager Trail extension. Bill, and many of his neighbors, attended the meeting to speak in favor of the overall active transportation plan, but against putting an off-street multi-use trail behind their houses. After the meeting we were able to talk, and I met with him and Mike Chun the following Saturday to discuss active transportation in and around the Tanager Drive area.
The goal of this meeting was to give us an opportunity to share our personal views and experiences, and help us understand the issues better. I came out of the meeting with a much better understanding of their concerns, and a revised view of the situation.
Connections through the Upper Birds
A starting point for discussing active transportation in this area of Costa Mesa is to look at all the connections that are served by the roads and trails in the Upper Birds neighborhood: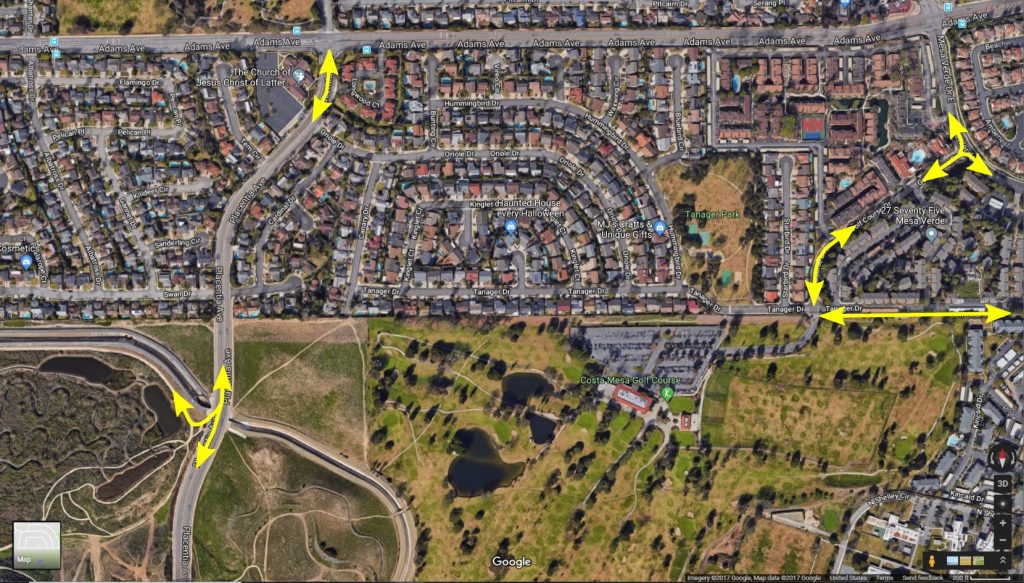 Directly to the southwest is Fairview Park, a prime destination in the area as well as home to a very useful connection to the Santa Ana River Trail and Huntington Beach.
Also to the southwest is Placentia Avenue, which connects to homes, shopping, schools, and more.
To the northwest are homes in Mesa Verde, Estancia Park, Adams Avenue (which leads to Huntington Beach), and additional connections to the Santa Ana River Trail (at Gisler or Moon Park) for those traveling north.
To the southeast is the existing Tanager Drive Trail, which connects to the Harbor Village Apartments, Harbor Boulevard (for shopping and more), the homes in College Park, and Orange Coast College.
To the northeast, along Golf Course Drive and Mesa Verde East, are connections to shopping, additional residences (including the eastern part of Mesa Verde and the many apartments at 27 Seventy Five Mesa Verde), and another route to Orange Coast College.
Creating quality active transportation connections through this neighborhood will allow people traveling between all these points to do so more safely and easily. Students traveling between Orange Coast College and Huntington Beach, people heading to Fairview Park, folks heading to shopping near the Harbor and Adams intersection, commuters on their way to work, families out for a trip to the beach, and more could all use a connection in this region. But currently it's not at all clear how to navigate the neighborhood (e.g., I had a student who lived in this neighborhood for more than a year but didn't realize that the Tanager Drive Trail existed).
Off-street multi-use trail
A way to link all of those destinations in a clear, easy-to-navigate manner would be to create an off-street multi-use trail along the north side of the golf course, as discussed in this post.
Something I made clear when talking with Bill and Mike, and want to make clear here, is that while discussing a proposed extension of the Tanager Drive off-street multi-use trail I am not talking about building a "caged bike trail" that is a narrow strip of bumpy asphalt dominated by a looming chain-link fence. I would be opposed to building such a structure; fenced-in, narrow trails are, among other problems, unsightly (to both trail users and local residents) and unwelcoming to many potential trail users.
When I see plans to put a Class I trail on the north side of the golf course, I see a trail like the one just north of Castaways Park, or the San Diego Creek Trail, or the Harbor Cornerstone Trail: beautiful, wide, nicely lit, well-landscaped trails that are welcoming to all and are designed in such a way as to deter crime to the adjacent properties (e.g., by putting dense vegetation adjacent to property fence lines).
But what I envision may not be feasible in anything approaching the short term. As Mike Chun pointed out in his comments at the public meeting, the current trail location is well within the danger zone of the ninth fairway; both men pointed out that they've had countless balls land in their yards over the years, causing significant damage. While many golf courses have been designed with trails along them (see this 2005 report discussing trails on golf courses), given the proximity of the trail to the fairway it would be challenging to build a wide, safe trail with the existing layout. Foliage and/or netting could be used in place of fencing, and would be less of an eyesore, but there are still other challenges, such as almost certainly needing to move the tee box of the ninth fairway and potential concerns about utility easements.
Measure AA also adds complexity to the situation, as that voter-approved measure prohibited many new permanent developments in Fairview Park. There does seem to be an exclusion for trails existing on the master plan (see this research), but it's not clear whether that exclusion would allow for paved trails along the northeast quadrant, which is what would be necessary for trails in Fairview Park to function as a usable connection in Costa Mesa's Active Transportation Infrastructure, and it appears that the master plan does not include a trail to the golf course (only a trail to the entrance along Canary Drive). Additionally, the slope of the hillside would necessitate that any all-abilities trail added to the park would have to loop around the hill, likely negating much of the distance-saving benefit of trails in the park that I discussed in my original post.
Based on my discussions with Bill and Mike, it seems like they're afraid that if a red line goes on the map behind their houses, then it will be possible for city staff to force an ugly "caged trail" into existence behind their homes (regardless of the niceties that are said about collaboration and public input during the planning process). I, and I suspect other cycling advocates, am afraid that if that red line is deleted from the map, then we will forever lose the opportunity to build that important connection if it were feasible.
Finding a solution to those two fears is key to improving active transportation in this area.
Bike boulevard
If there is no off-street multi-use trail, or if one would be years in the making, how do we make it easy for people using active transportation to make the connections outlined above?
The key issues identified were safety at the edges of the neighborhood (e.g., the Golf Course Drive entrance to the Tanager Trail is not well-marked, leading to things like this), the difficulty of crossing Placentia (the nearest stoplight is at Placentia and Adams, which requires climbing a hill), speeding vehicles in the neighborhood, and the challenges of route finding in the neighborhood (the safest bike boulevard in this neighborhood would require users to make five turns, none of which are intuitive to non-residents).
While looking at these issues, Bill, Mike, and I sketched out a rough idea for what a bike boulevard would look like in the neighborhood.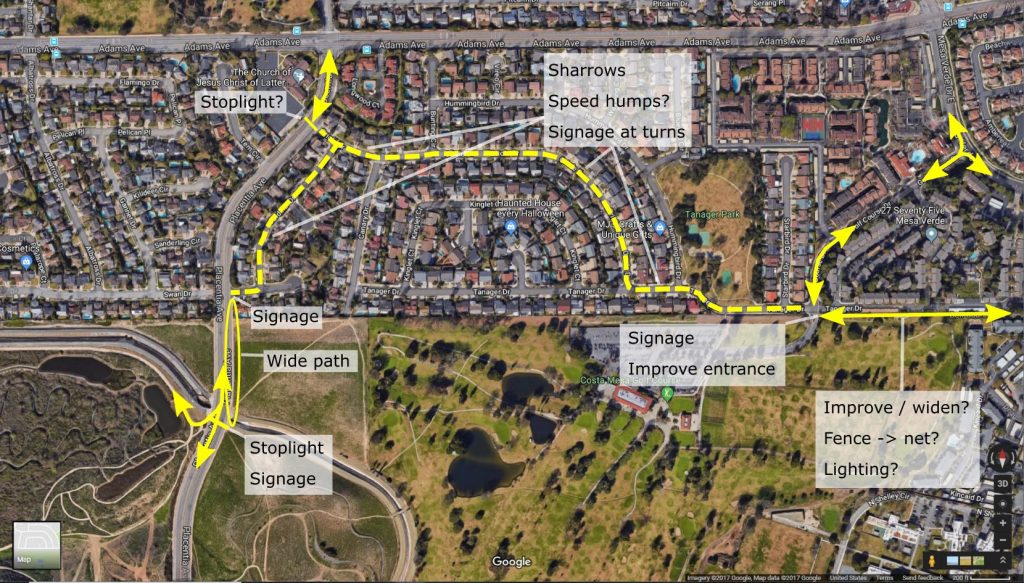 Inside the Upper Birds neighborhood:
The primary marked path would run along Tanager, Oriole, Cardinal, and Swan Circle; the rest of Tanager and Canary could be bike boulevards as well, but the extra turns required at the end of Tanager and Canary make the route along Oriole preferred, and the one that we felt should be primarily marked.
Streets would be painted with sharrows to indicate to bicyclists where to ride and to alert drivers to the possible presence of bicyclists.
Well-designed, attractive signage would be placed at key intersections (e.g, Oriole and Tanager; Oriole and Cardinal) to help active transportation users and other users find their way, though sharrows might reduce the need for this.
Speed humps might be installed, to help prevent speeding, though this may be controversial (and note that speed humps are not mentioned in the joint letter, below).
At the western edge of the Upper Birds neighborhood (Placentia):
A stoplight, planned for installation once the Placentia Ave. medians are finished, would be placed at the exit of the existing off-street multi-use trail along the northern edge of the western half of Fairview Park. This will dramatically improve active transportation connections in this area.
To allow users heading south from the neighborhood to safely cross Placentia at the new stoplight, the sidewalk along the eastern side of Placentia between Swan Circle and the stoplight would be widened, hopefully into functionally an off-street multi-use trail. The existing right of way of the roadway and wide bike lane would hopefully allow for this without infringing on Fairview Park.
A stoplight at Oriole Drive and Placentia would be another possible solution to helping users travel south on Placentia from the neighborhood (and a necessary solution, if the widened sidewalk mentioned above is not possible), but that light's proximity to Adams seemed like a possible challenge, so we left it with a question mark. This stoplight would make it much easier not just for cyclists, but also for residents of the neighborhood to turn left onto Placentia.
Well-designed, attractive signage would be placed at key intersections (e.g., both sides of the stoplight; Swan Circle and Placentia) to help active transportation users and others find their way.
At the eastern edge of the Upper Birds neighborhood (Tanager Drive Trail entrance):
The entrance to the Tanager Drive Trail would be redesigned / modified to make it more obvious, welcoming, and safer for users entering and exiting it. In addition to the trail's entrance being unclear to users, many drivers exiting the golf course probably have no idea that a multi-use trail exits at that location, and thus don't expect cyclists or others to be turning in front of them.
Well-designed, attractive signage would be placed at key intersections (e.g, Oriole and Tanager; Oriole and Cardinal) to help active transportation users and others find their way.
Along the existing Tanager Drive Trail:
If possible, rebuild the trail so that it does not feel "caged in". For much of the portion along the golf course the trail runs at least 20 feet away from the current edge of the course (as indicated by red stakes marking that the small gully adjacent to the trail is a lateral water hazard). Could some of that gully could be filled in, allowing the trail to be dramatically expanded in width, with pleasant landscaping and little impact on the course?
Replacing the fencing with netting or dense foliage could provide an equally functional screen against golf balls while providing less visual blight.
Add lighting to make the trail more welcoming and safe at night.
If these improvements were made, I think the need for an off-street multi-use trail along the northern edge of the golf course would be reduced at the present time.
A joint letter
At our Saturday meeting, Mike, Bill, and I discussed many of these issues, drafted out the plan listed above1, and over the coming days tried to draft a statement that we could all agree to. The hope was to show that there was a path forward to address the concerns of both residents of the Upper Birds neighborhood as well as active transportation advocates.
After many e-mails back and forth, we eventually all signed the following letter:
December 12, 2017
To: Costa Mesa Bikeway and Walkability Committee
We support removing the proposed Class I Tranager Drive Trail extension from the draft Active Transportation Plan, with the understanding that it could be considered in the future if conditions change and all affected parties agree to consider it.
In its place we support creating a Class III Bike Boulevard along the streets in the neighborhood, as displayed in the accompanying diagram (noting that Tanager Drive would also remain a Class III Bike Boulevard for its entire length). We also support improvements to the Class III Bike Boulevard, such as wayfinding assistance, an improved entrance to Tanager Trail at Golf Course drive, and improvements along Placentia.
We believe that implementing a plan such as this would demonstrate the Committee's concern for the area residents, show cooperation between active transportation users and the neighborhood, be far less expensive than the previously proposed Class I multi­use trail, and largely accomplish the goals of easy and safe access to the many routes around this neighborhood.
We can only speak for ourselves and not for other stakeholders who have an interest in this subject. Their views must be solicited and considered.
We thank you for the opportunity to share our views on this matter,
Signed,
Marc Perkins, Costa Mesa, CA 92626
William Burke,Costa Mesa, CA 92626
Mike Chun, Costa Mesa, CA 92626
The committee's decision
The Coast Mesa Bikeway and Walkability committee met on Tuesday, December 12 to discuss the draft Active Transportation Plan and consider approving it for submission to the city Planning Committee and then the City Council.
During my public comment I presented the petition in support of active transportation in Costa Mesa, which had 82 signatures at the time of submission, and also presented Bill's, Mike's, and my joint letter.
The committee spent nearly an hour discussing transportation in and around the Upper Birds, with the committee eventually deciding on approving the draft active transportation plan with an amendment that the Tanager Trail extension be conditional upon a feasibility/design study (with funding to be requested from City Council) and further outreach to nearby residents.
The goal of the feasibility study would be to address the issues raised by Bill, Mike, and other residents: it would determine whether an off-street multi-use trail could be built in that location, what it would look like, what it would cost, how it would impact the neighborhood, and how it would impact the golf course.
Many committee members stated that they would like to see a trail in that location (especially for enhanced access to Fairview Park), but only if it were a beautiful trail that enhanced the neighborhood. It was clear that many felt the existing Tanager Drive Trail was an outdated design that they would not want to see repeated.
The draft Active Transportation Plan will now head to the Costa Mesa Planning Commission and then the City Council for potential approval and incorporation into the city's General Plan.
Conclusion
Moving forward with a feasibility study of the Tanager Drive Trail extension seems like a fair solution: instead of blindly saying "let's build this!", or saying "it's impossible; don't built it," the committee is suggesting hiring professionals who can study the situation to determine what is possible. If this process goes through, residents of the city will get to see what could realistically be created in that location, and this will hopefully provide resolution to everyone: either a solution is found that is amenable to all, including local residents, or it's determined that there are indeed too many challenges to build a path in that location, and the idea will be removed from the city's plan unless there are major changes to the region in the future.
Footnotes
1 Note that what we agreed to was a general sketch of the Class III plan and the marked-up diagram included above; the precise wording detailing the plan in this post is my own, and was not reviewed by Bill or Mike prior to publication.