Introduction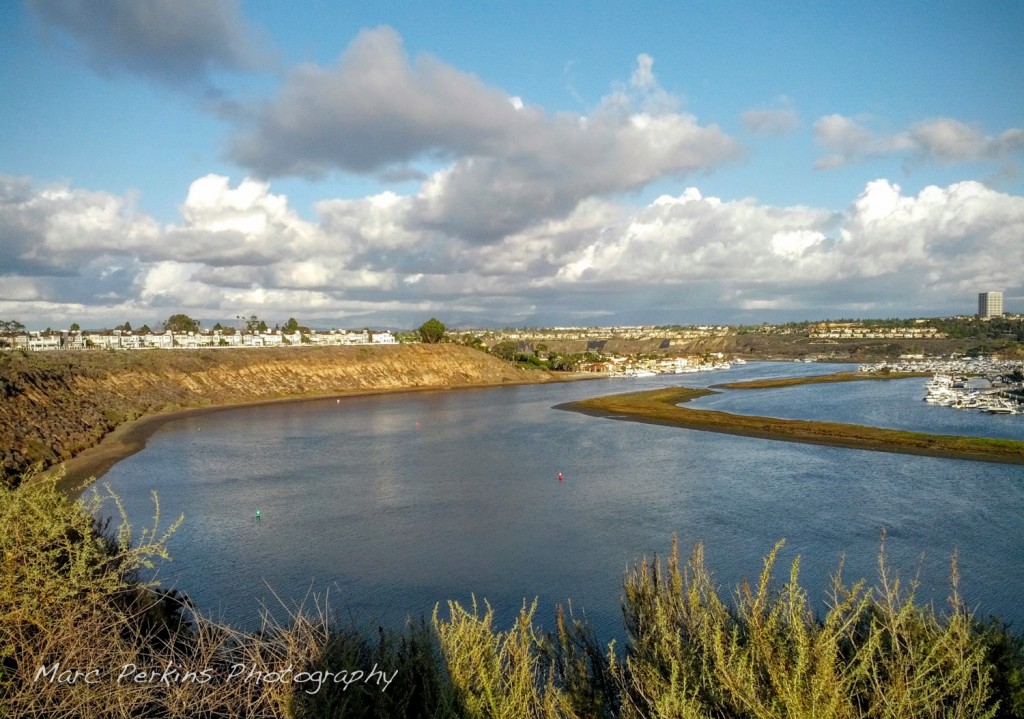 Newport Back Bay is a gem of central Orange County.   It's a wetlands estuary located just inland from Newport Harbor, and has roughly six miles of paved bike path that allow you to ride only feet away from nature.  The views can be gorgeous, and I've seen many stunning sunsets while riding it.
For years I suggested that my students do an outdoor project at Newport Back Bay, and many came back saying "I never knew this was there; I loved it!"
However, actually cycling around Newport Back Bay is more complicated than it should be because the bicycle path does not actually form a complete loop around the bay.  On the eastern side the bike trail ends about a quarter mile north of PCH, and then doesn't truly start up again until about a mile and a half north of PCH on the western side.  Thus, riders wanting to do a true loop must fend for themselves and figure out how to get through PCH and city streets to get back to the trail.
Route
I've created a complete loop with detailed notes in RideWithGPS: Costa Mesa -> Newport Back Bay Loop, and embedded a live view of the route below.  When starting from Estancia Park in Costa Mesa the route is just about 19 miles round trip and gains a total of 450 feet of elevation.
I've started the route in Estancia Park, my standard start point in Costa Mesa.  Estancia Park has ample parking, restrooms, and water fountains, making it a good group start meetup.  However, the point of this ride isn't Estancia Park, and thus I suggest you pick up the route anywhere you want along it (and if you have an easier way to get to the Back Bay loop, by all means use it).
Skills needed for the route: To ride this route you need to be familiar with and comfortable riding on small, low-to-moderate traffic streets that don't necessarily have bike lanes.  The riding on larger streets can be done on sidewalks designed for bicycling.  See the route notes for a few sample pictures.  There are a few small hills on this route; roughly equivalent ascents in our area are the hill on Adams or Placentia near the Adams/Placentia intersection, the hill up Victoria near the Santa Ana River, and the hill up Cliff Drive from PCH in Newport Beach.
Driving to Newport Back Bay: If you live far from here and want to drive to Newport Back Bay instead of riding there (but ride there if you can!), common parking locations I see cyclists use are on Eastbluff Drive just off of Jamboree (near the Vista Point overlook) and at the southern end of Back Bay Drive near where it hits Jamboree.  The loop around Back Bay itself, without any of the ride to Costa Mesa, is approximately 10 miles.
Here's a static version of the map suitable for printing: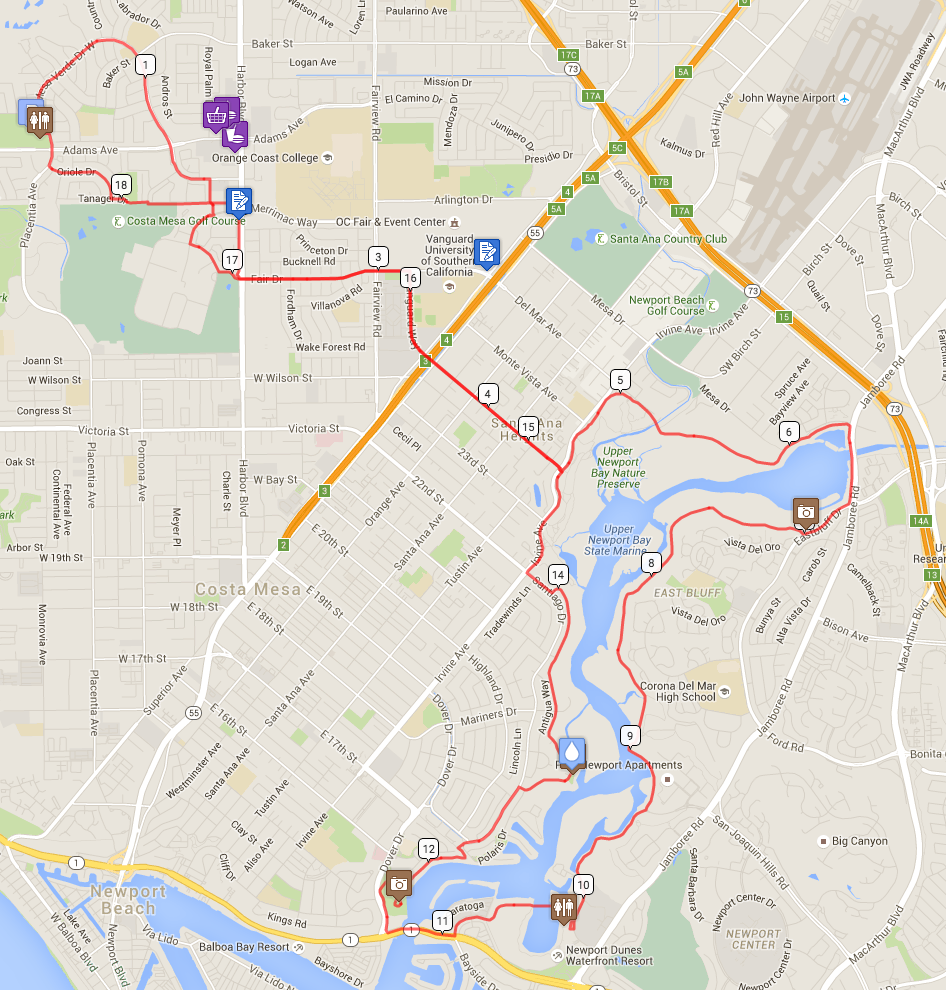 Sights to expect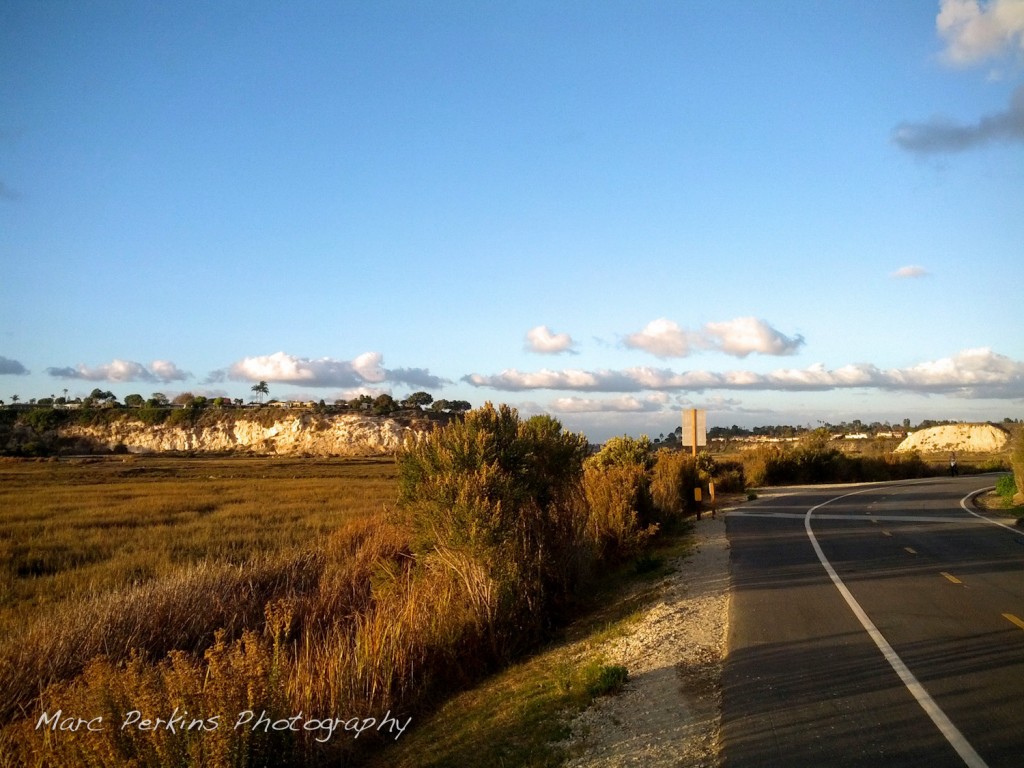 The sun rises over the eastern side of the bay in the morning, then sets over the western side in the evening, allowing for good sunrise and sunset viewing.  The Back Bay loop is my absolute favorite place to be cycling at dusk; the gathering dark is broken by the haphazard lights of the houses on the cliffs, and the water of the bay reflects both natural and artificial lighting stunningly.  Moonrise over the bay can be breathtaking.
On the eastern side you'll be riding at the level of the water, and will come right up to the water and plants at many points.  On the western side you'll often be on bluffs above the water.  It's pretty everywhere!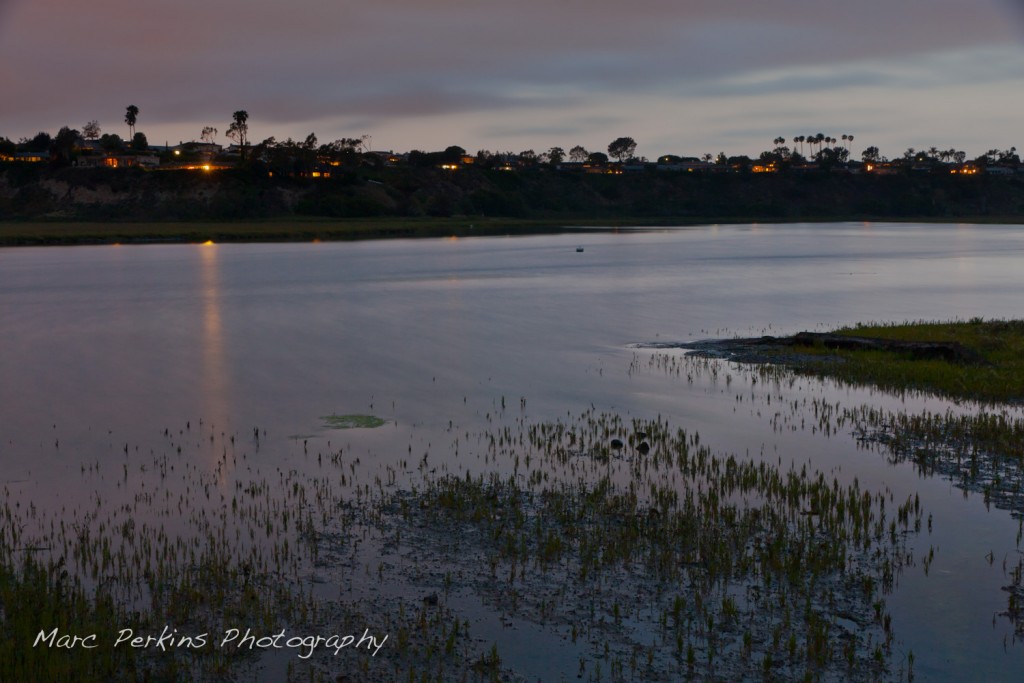 Castaways Park has particularly nice views of Newport Beach and the Back Bay; it alone is worth the ride if you've never been there.
During the spring and fall many birds stop in Newport Back Bay on their migration flights, which I've been told makes for good birding (and there are nearly always at least some birds there).
A lot of what you're riding around is the Upper Newport Bay Nature Preserve (which has many dirt trails to walk on in the western portion of it) and the water you're seeing is the Upper Newport Bay State Marine Conservation Area; at the northern end of the loop you'll cross over San Diego Creek, which itself has a nice bike trail on it that goes many miles inland through Irvine.
Bathrooms, water, and rest stops
At the start location, Estancia Park, there are bathrooms and water fountains.  Near Estancia Park there's a Starbucks, 7-11, Vons, CVS Pharmacy, and a lot of restaurants on Adams near Harbor.
Along the Back Bay loop you've got water and restrooms at the south-eastern portion of the loop at Newport Dunes.  Galaxie View Park has a water fountain, but no restrooms.  Unfortunately, Castaways Park has neither restrooms nor water.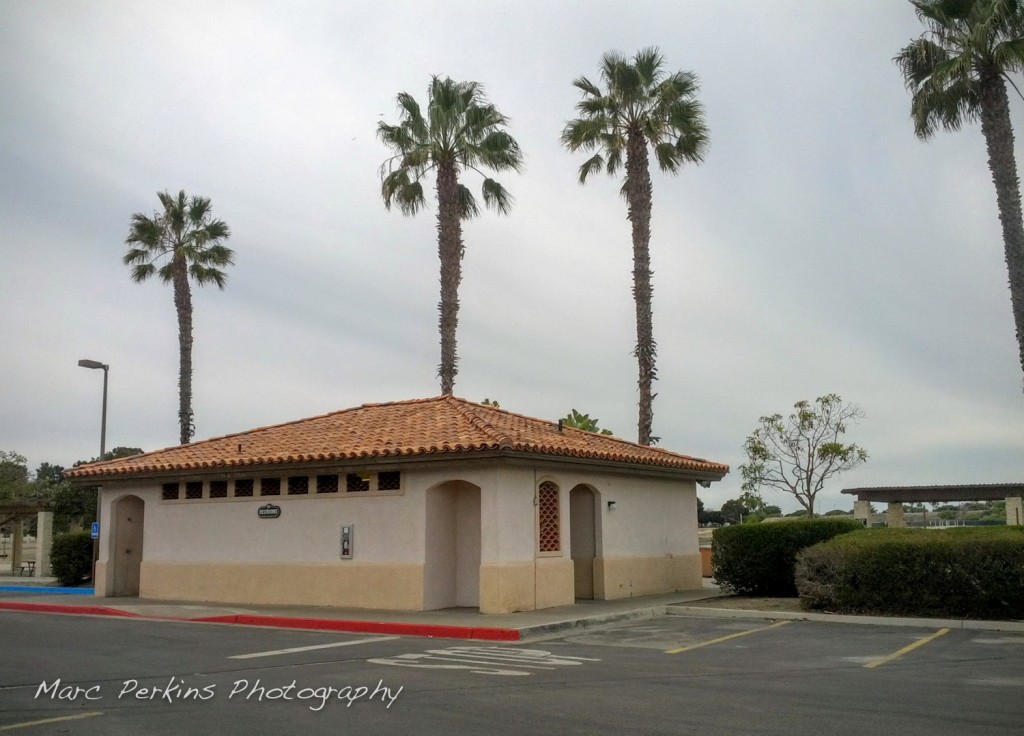 Route notes
Getting from Estancia to Fair: I've mapped out two routes to use to get from Estancia Park to Fair Drive.  The first route, which takes you up and around Mesa Verde Drive is the simplest, has the least elevation change, and is the lowest traffic; however, it adds a bit of distance.  The second route cuts through a neighborhood to the south of Adams and uses a little bicycle trail and some of the roads in the Fairview Developmental Center (but requires a non-stoplight-protected left turn across Placentia on the way out).  I prefer to use the first route while going out, and then take the Fairview Developmental Center route on the way home (which prevents me from having to ride up the sidewalk on Harbor against traffic).
If you're comfortable riding on Adams (which has a narrow bike lane each direction and six total lanes of high-speed traffic), you could use that too (I'm comfortable riding on Adams, but I know many beginners find it imposing).
Getting from Fair to Newport Back Bay: I despise the Fair Drive and 55 intersection, especially when heading west (since, after crossing the 55 heading west on Fair, two lanes of high-volume traffic are added to your right, and cars in both of those lanes must merge left through you).  A much lower-stress and lower-traffic route to get to Newport Back Bay is to take Vanguard Way south and cross the 55 there.  There's no entrance or exit to the 55 at Vanguard Way, so it's one of the least-stressful crossings of the 55 for bicyclists to use.  And then Santa Isabel is lower traffic than Del Mar.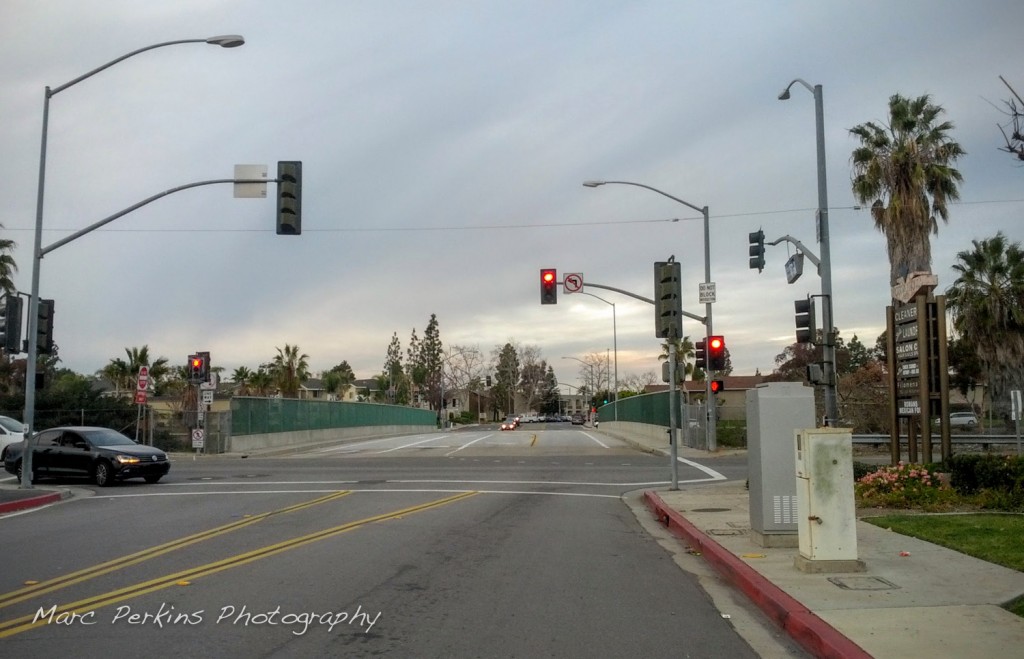 Northern portion of the loop: The northern portion of the Back Bay loop is simple – just stay on the paved pathway until you hit Jamboree, turn right on Jamboree, take the wide sidewalk on Jamboree over the bridge, then turn right at Eastbluff Drive and head up it until you get to the start of Back Bay Drive (which you can't miss – it's the first right you can make, and it's got a little park there called "Vista Point").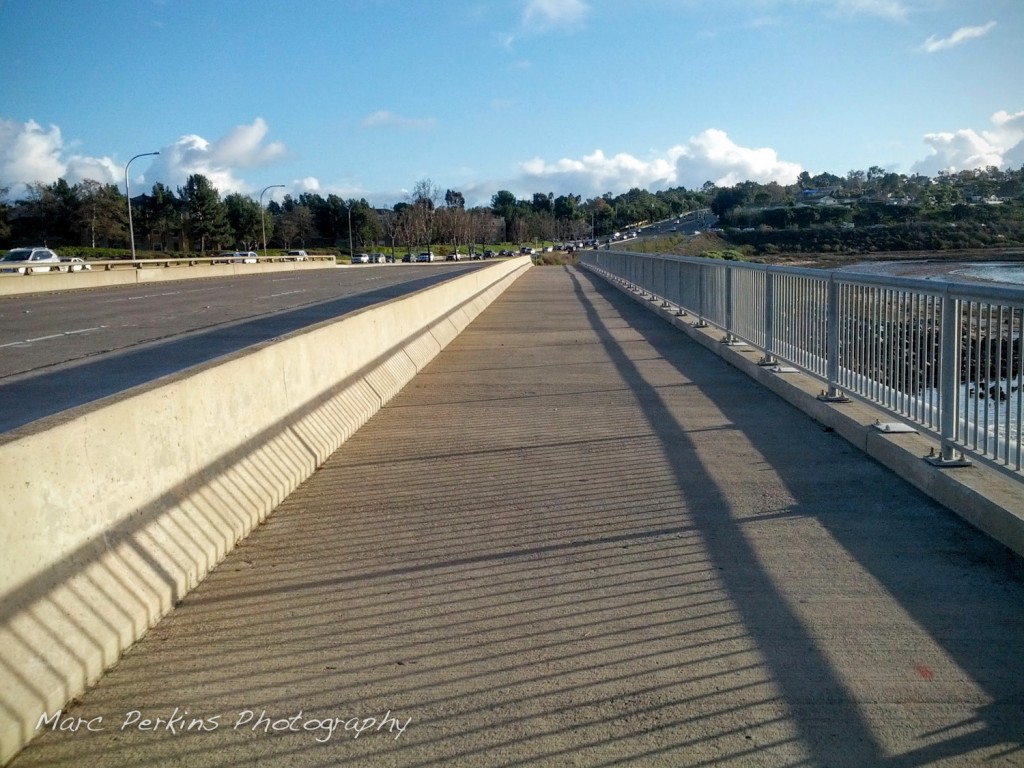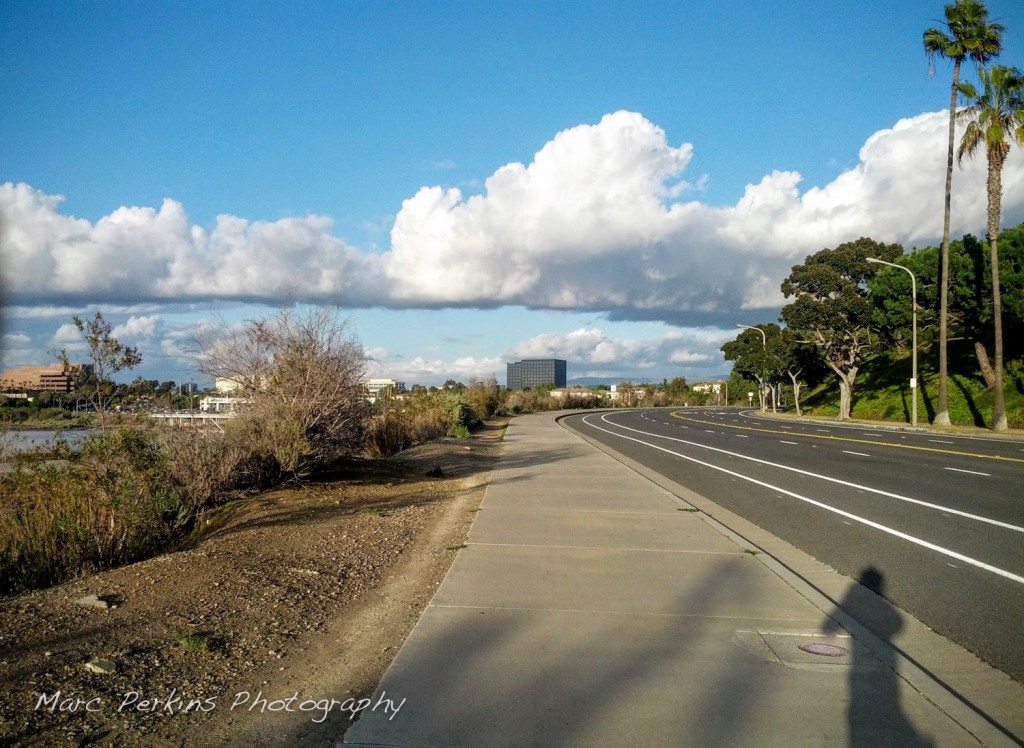 Back Bay Drive: Back Bay Drive is open to vehicle traffic, but  vehicles can only drive north on the road.  Vehicles and cyclists going north ride on the right two-thirds of the road; cyclists going south ride on the other third of the road.  So, you'll be riding on the no-car portion of the road here, and won't have to worry about any cars catching up to you from behind.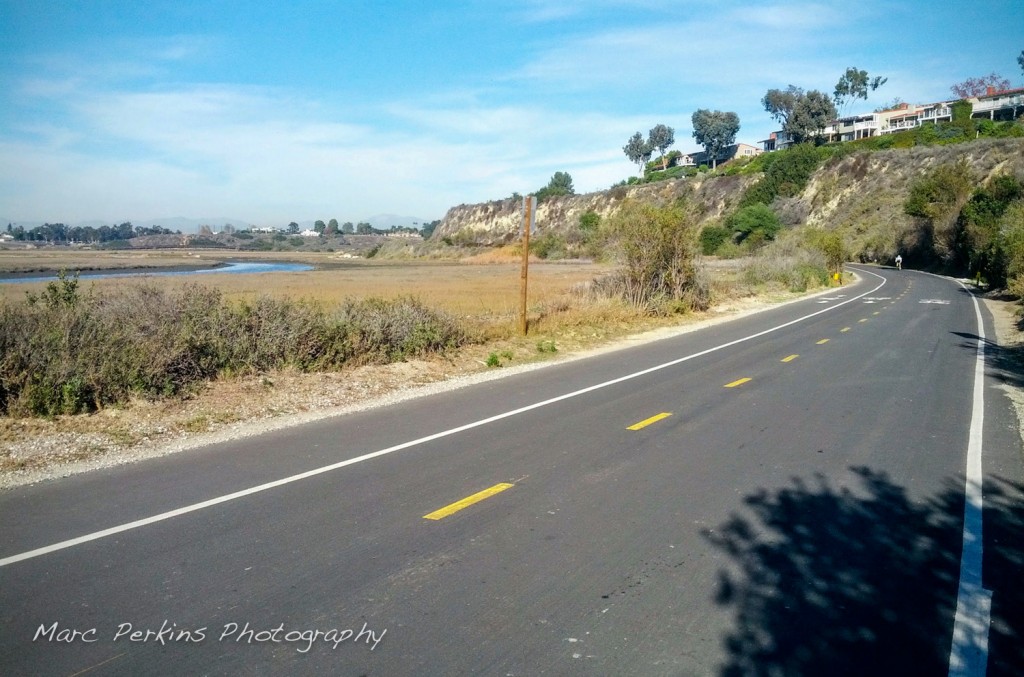 While this cars-going-one-way sounds like it might be stressful, it's really not.  Cars are limited to 15mph, and the vast majority of drivers I've encountered on this little road have been cautious and friendly to cyclists (people who drive this road are typically interested in the scenery, not getting somewhere).  Just yesterday I was on the road traveling in the same direction as car traffic, and a car pulled over to let me pass 🙂
Southern portion of the loop (aka: what were the planners thinking?): Take a look at the map carefully in this area.  There's a pretty bridge you can ride that will get you onto Bayside Drive; you'll have to cut through a gated entrance and parking lot to get to the bridge.  Ride Bayside Drive all the way to PCH, then hang a right onto PCH.  You can ride on either the sidewalk or road of PCH, but get onto the sidewalk at the intersection of PCH and Dover, because you'll very quickly be taking a path up to Castaways Park from the sidewalk on Dover.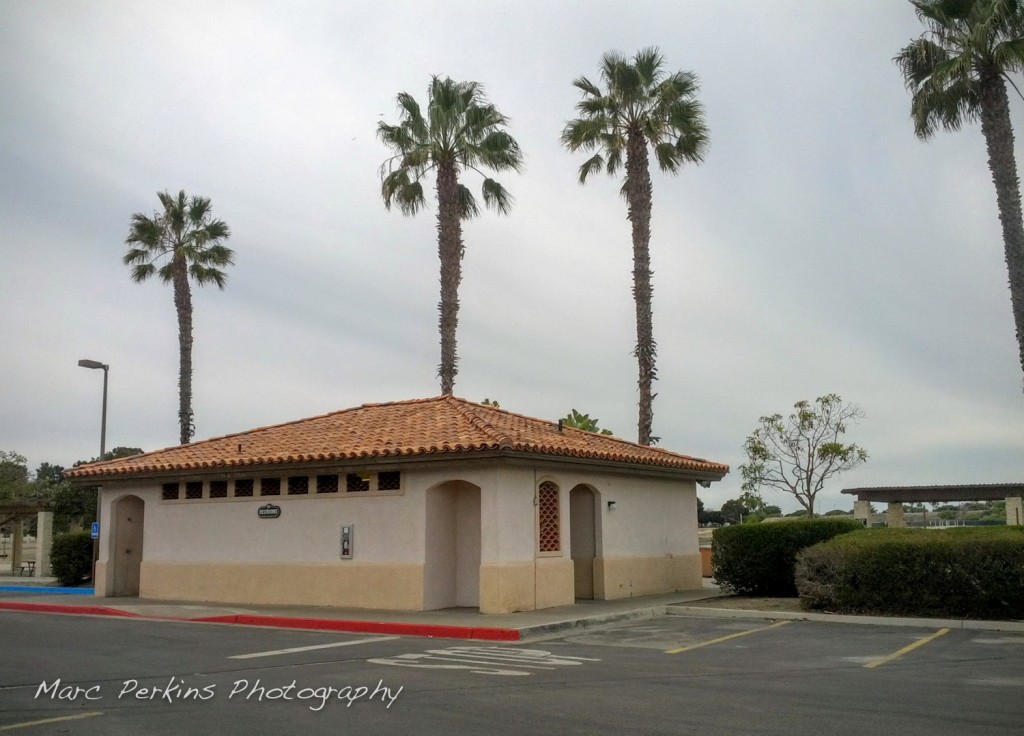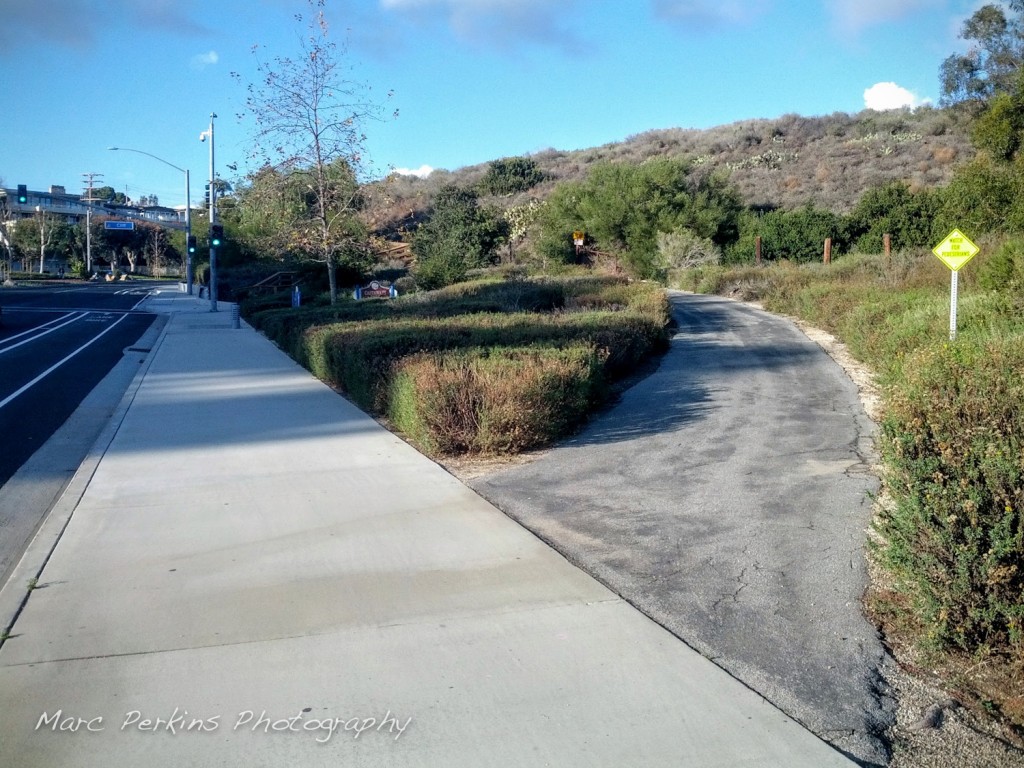 Castaways Park: This park has first-class views of Newport Beach and Back Bay; it's a don't-miss attraction.  To get to it you'll ride up a steep (but short) slope that takes you up from Dover and into the upper portion of the park.  This is by far the steepest hill on the route, and if you're a beginner you may need to get off and walk (but it's a short walk).  You'll have a nice rest as you admire the view from the top.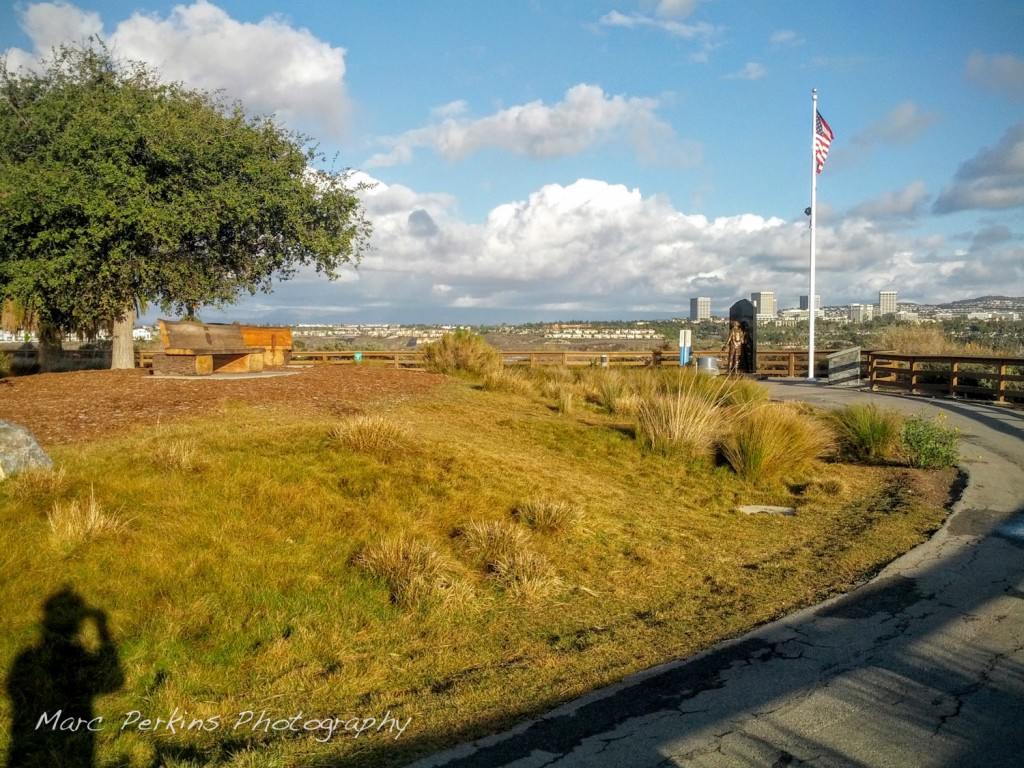 As you exit Castaways Park keep to the eastern (water) side of the park to get onto a little bike/pedestrian trail that runs at the edge of the cliff behind some houses; it's a beautiful section of trail.  But, sadly, this path doesn't connect up to the rest of the Back Bay bike trail; it dumps you off in a residential neighborhood.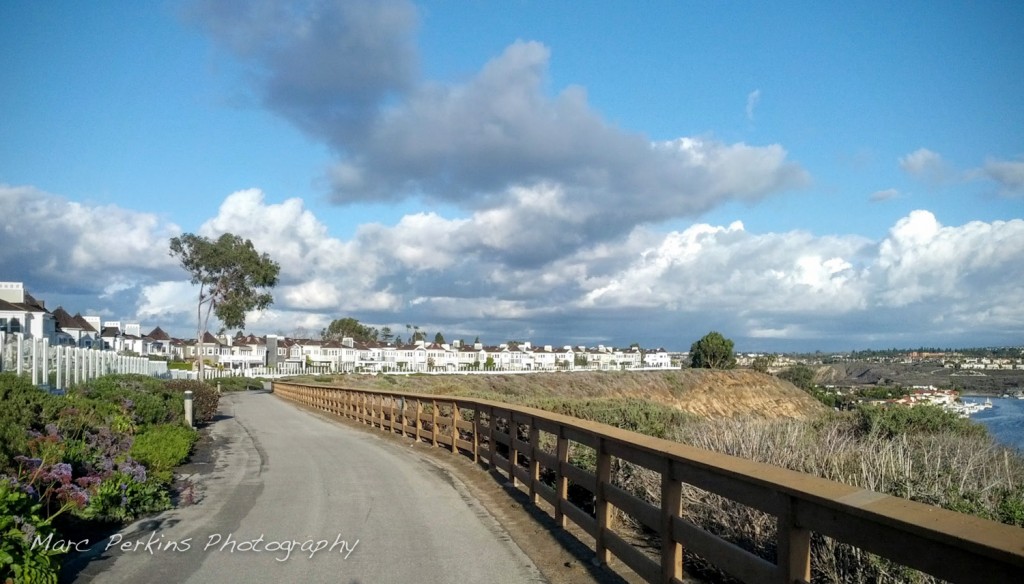 Navigating the city streets on the west side of the loop: After the clifftop bike path turns left sharply, take the first right-hand exit to get onto Santiago Drive.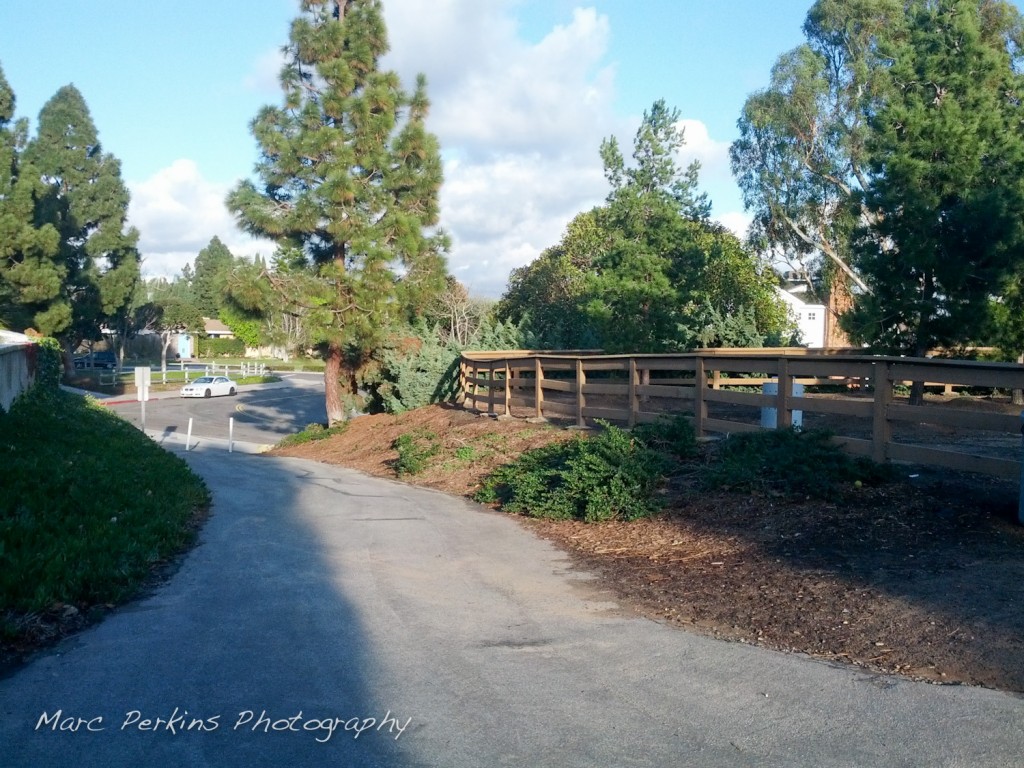 From where you get onto Santiago you have a lot of potential options.  I've mapped out my favorite (#2) in the published route, but here are three for you to choose from:
Simplest: Stay on Santiago Drive all the way until it hits Irvine Ave.  If you're feeling overwhelmed by directions then this is the route for you: just keep going straight on Santiago and you'll hit Irvine Avenue, right where the Back Bay trail starts up again.  You'll see lotsa fancy houses, and won't miss much by not doing the other two routes (take them next time!).
More houses and fun: Start on Santiago, but then turn right on Galaxy Drive, which takes you a bit longer distance, shows you more houses, and passes by a little park (Galaxie View Park) with another view of the Back Bay and a water fountain.  Galaxy Drive ends when it reconnects with Santiago; turn right at the end of Galaxy and you'll be on Santiago just before it hits Irvine.
More hills and houses: If you turn right onto Polaris Drive (just at the beginning of Santiago) you'll go down a steep hill that will then take you back up a similarly steep hill.  Polaris ends at Galaxy (see option #2), which you can turn right on and take to the end where it hits Santiago.  Turn right on Santiago, and you'll get to Irvine, where the trail starts up again.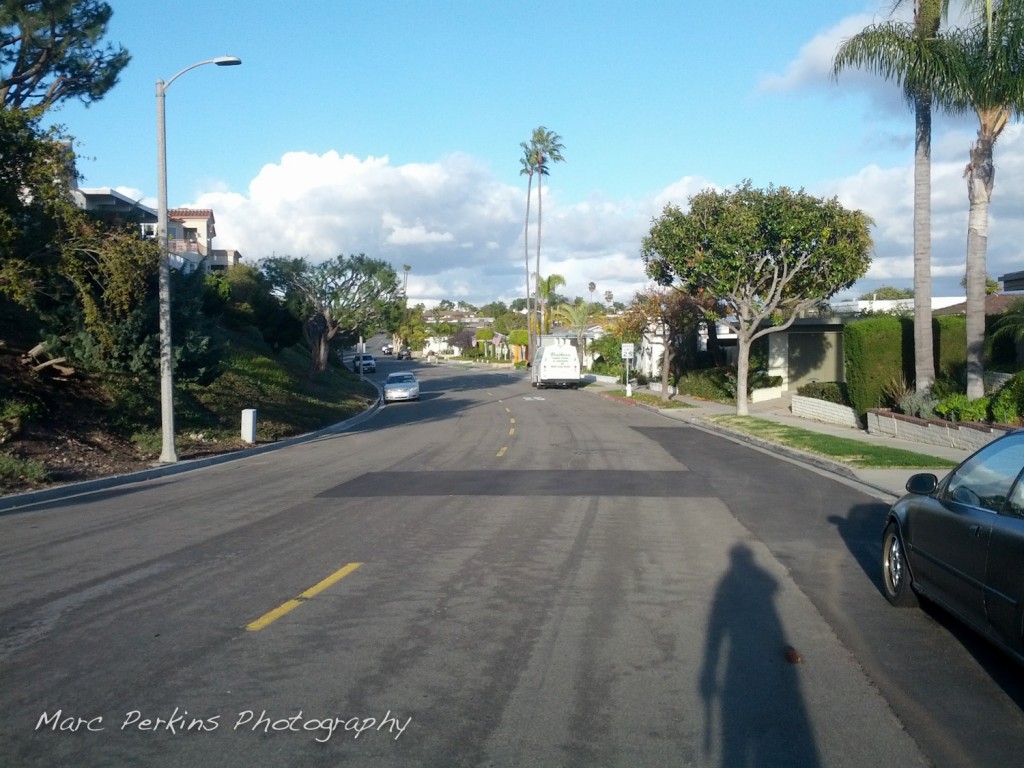 Finding Santa Isabel to get home:  The protected bike trail starts back up just after you turn right on Irvine Ave.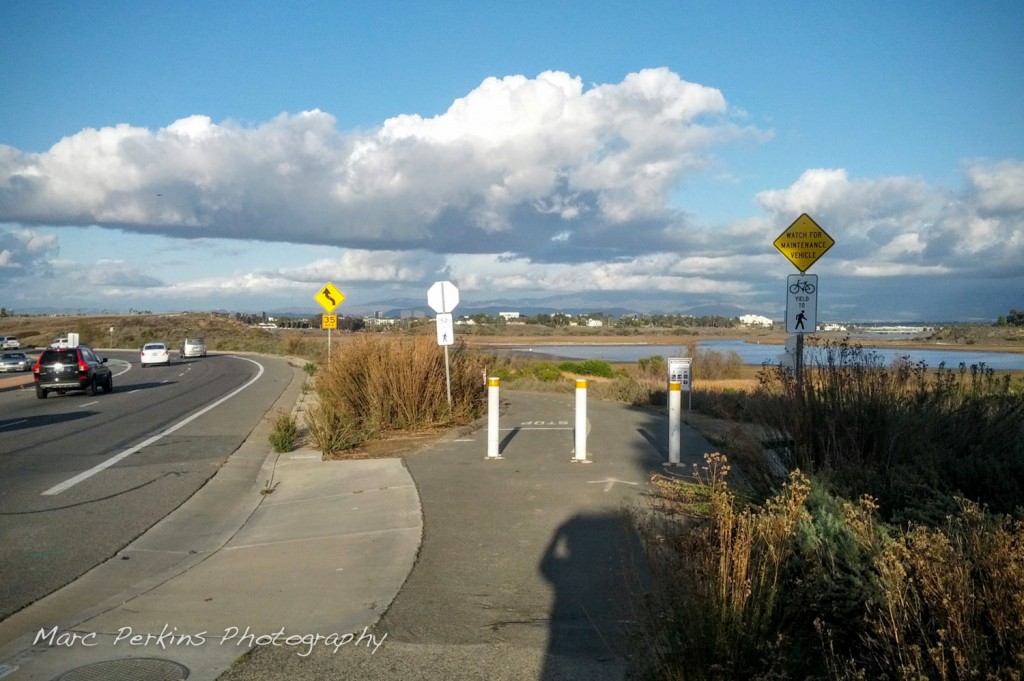 Continue on the protected trail until you come to the exit for Santa Isabel.  Santa Isabel has a stoplight at Irvine Avenue and a paved exit from the Back Bay trail, so it's easy to find and easy to cross Irvine Avenue at.
Why take Santa Isabel back to Costa Mesa instead of Del Mar / Fair?  As I said above, the Fair Drive / 55 intersection is a very dangerous intersection for cyclists due to two lanes of high-speed traffic getting added to your right (when traveling west).  Santa Isabel up to Vanguard Way is a much lower traffic and safer route.
See the "Getting from Estancia to Fair" section above for details on the last portion of the route (getting from Fair back to Estancia Park).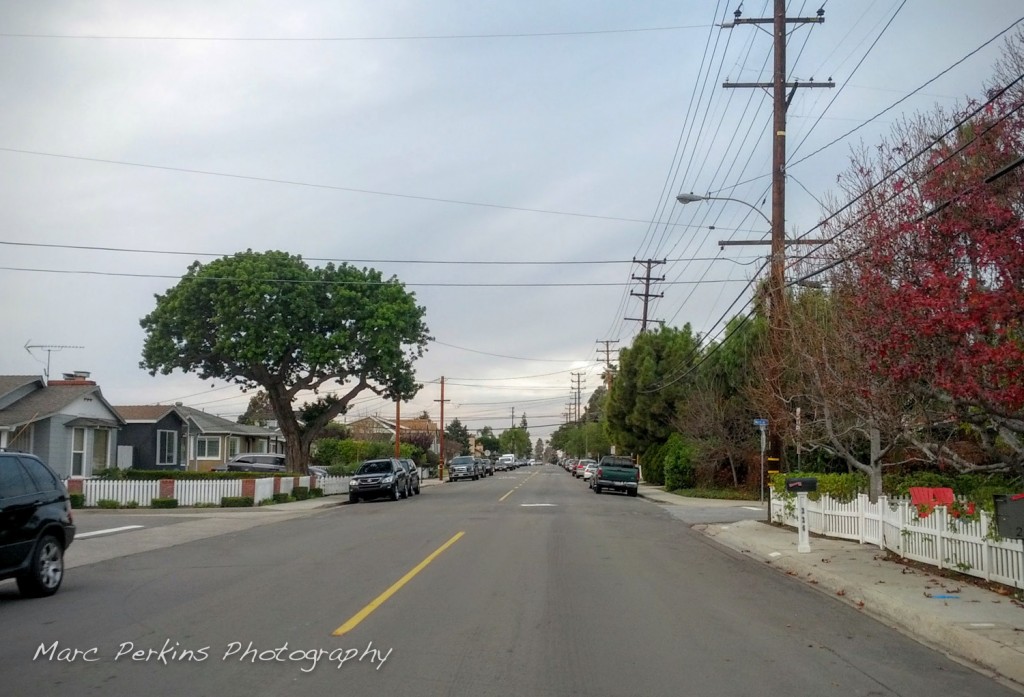 Riding surface
The entire route is paved and the pavement is generally in good shape.  There's one bumpy section on the western side of Back Bay (but it's relatively short).  After heavy rains there can be some gravel and other debris on the trail, but generally the pavement is clean.
Safety
This is a generally low-traffic route without many dangerous or difficult intersections (when you do have to ride on high-traffic roads it's often on wide sidewalks).  There are frequently other exercisers along the route, so you won't be alone unless you're riding at an odd time of day.
The Newport Back Bay trail isn't lit at night, but it's frequently ridden by cyclists (and used by joggers and walkers) at night.  Bring good lights if you plan to ride it at night; it's dark out there!
This ride is dedicated to Steve, who introduced me to the back bay loop years ago; may we ride it together again (and next time I'll try not to break a spoke halfway through).