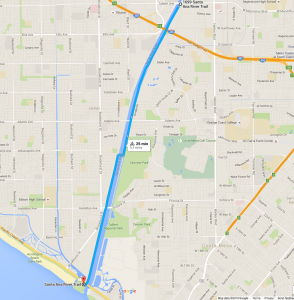 I live in Costa Mesa and love riding on the Santa Ana River Trail (SART), a multiuse paved trail open to walkers, runners, bicyclists, skaters, and more (pretty much anything non-motorized). If you've never ridden it before, you've got to: the Santa Ana River Trail runs more than 30 miles inland from the Pacific Coast Highway (PCH) in Huntington Beach, where it connects up seamlessly with the beach's bicycle path. And for that length it's 100% car and crossing free – you have dozens of miles of paved trail to roll on continuously without stopping.  Insanely useful for getting places in central Orange County while avoiding cars.
But getting on the trail isn't always intuitive, especially as the trail crosses  from one side of the river to the other within Costa Mesa's borders. Starting near the ocean and heading inland, here are all the entrances from Costa Mesa: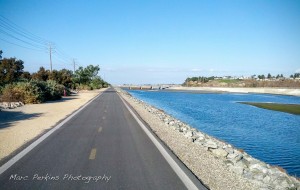 I've also included two bonus entrances for people coming from Huntington Beach:
And I also point out where the bridge is:
PCH / southern end of Huntington State Beach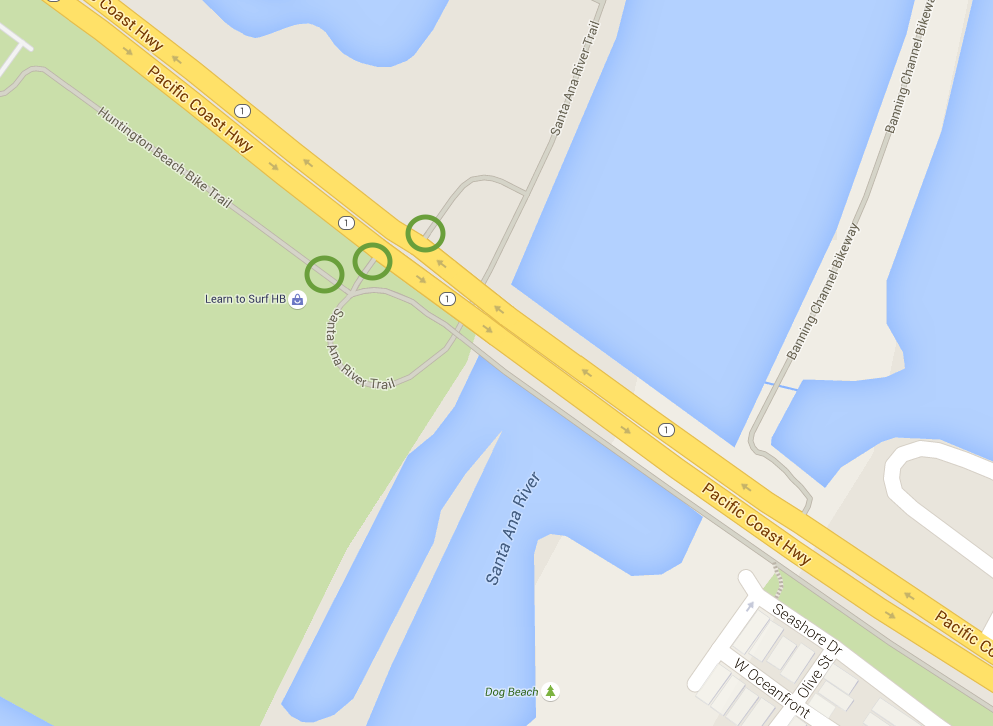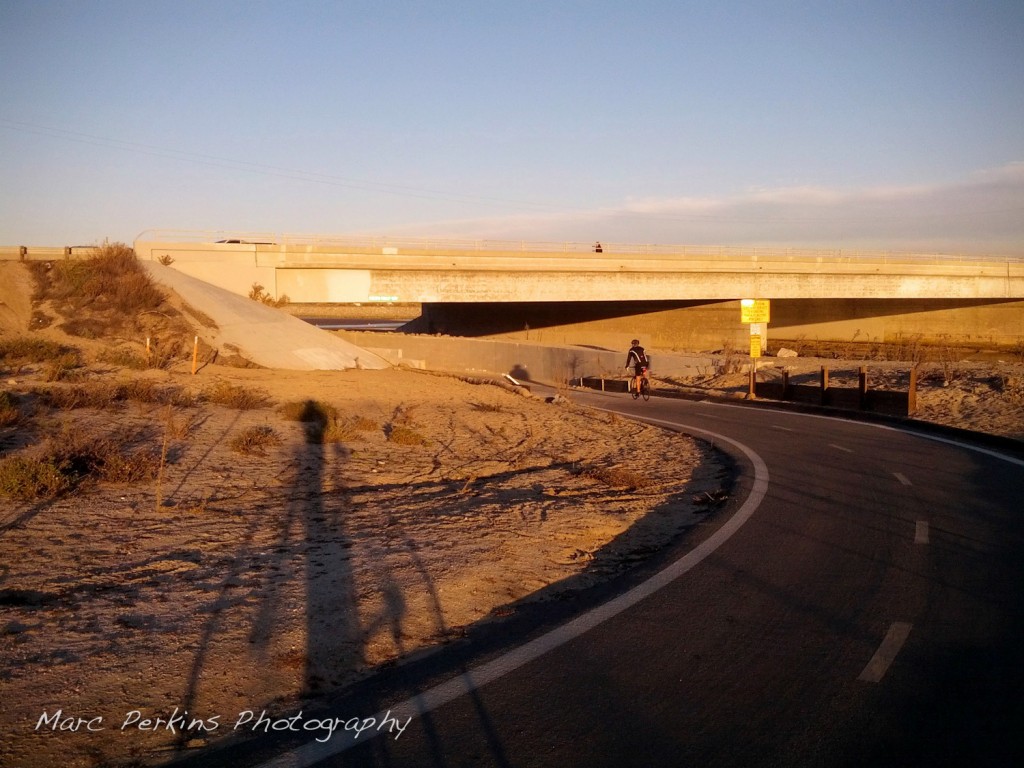 Okay, technically this entrance is in Huntington Beach, but I'd be remiss if I didn't include that you can actually get to the beach on SART.   SART connects to both the southern and northern side of PCH, and also hooks up to the very southernmost tip of Huntington State Beach's bike trail with an easy paved connector (and said Huntington State Beach bike trail will take you all the way up to and past the Huntington Beach Pier).  PCH also has a pedestrian-friendly bridge that crosses the Santa Ana River if you want to head to Newport Beach.
There are bathrooms and water fountains in Huntington Beach State Park less than a thousand feet away from the end of SART.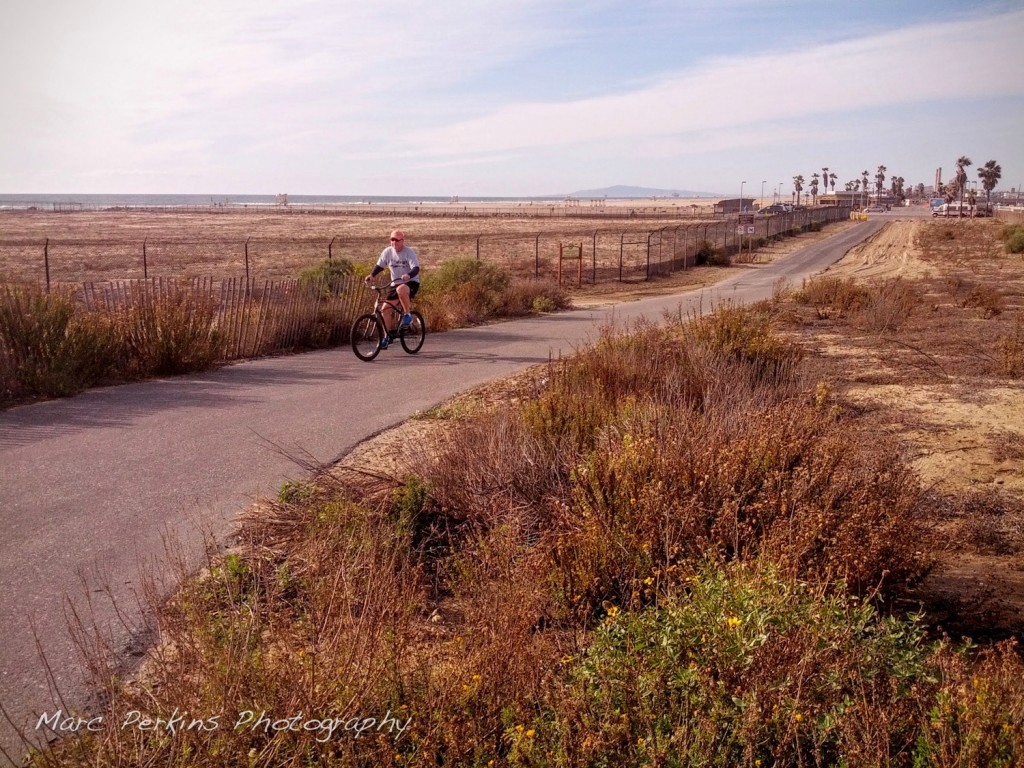 For folks living in the southernmost portion of Costa Mesa, this may be the most convenient entrance to SART for you: take Superior (or your favorite street) down to PCH, then head north on PCH to get to SART.
Key note: You can only enter and exit SART from the western (Huntington Beach) side of the river; the trail on the eastern side of the river is actually the "Banning Channel Bikeway", not SART.  The Banning Channel Bikeway does hook up to Victoria, and eventually allows you to get onto SART (north of the bridge crossing the river), but doesn't go under PCH to allow users easy access to the beach (or allow people on the southern side of PCH to access the bikeway).
Victoria St. (Hamilton Ave.)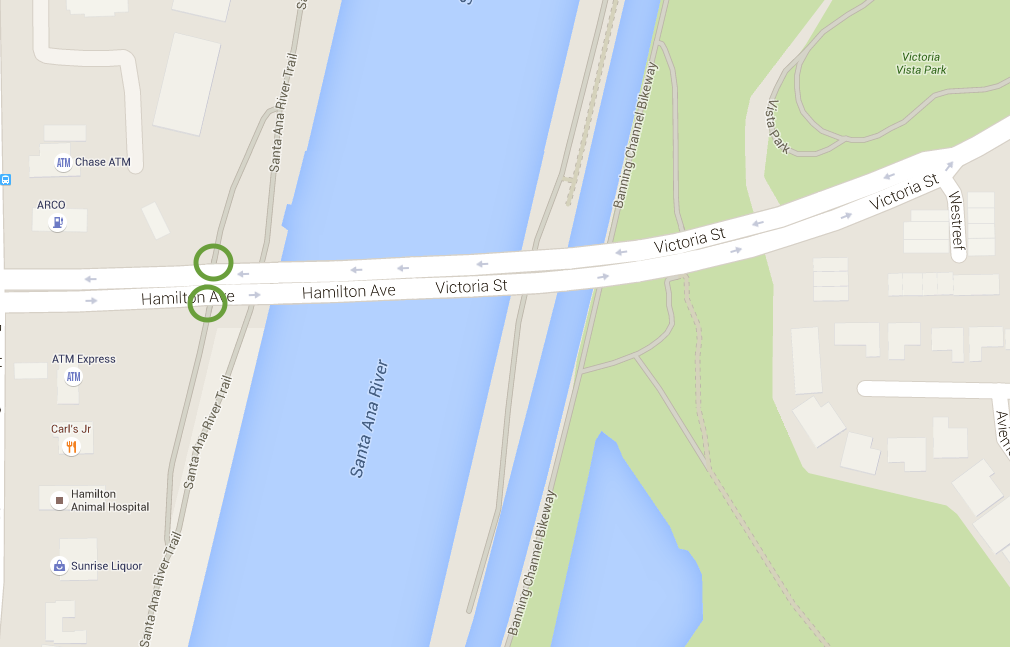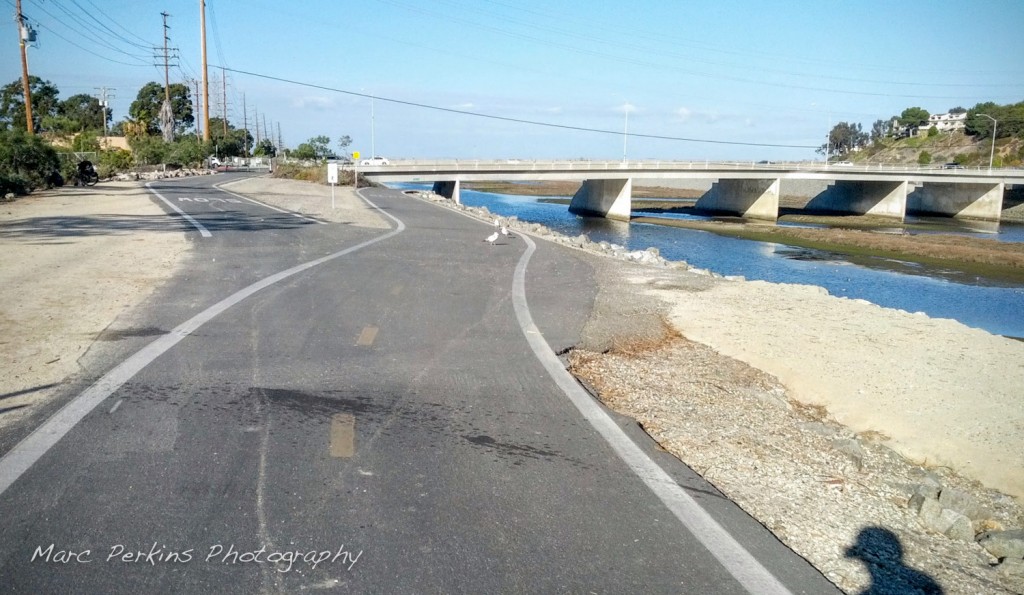 Take Victoria all the way west to where Costa Mesa ends and you'll hit SART; enter on the western (Huntington Beach) side of the river.  SART hooks up to both the north and south side of Victoria.  You'll go down a little hill (~50 feet) on Victoria just before you hit the river, so be prepared for that.
Key note: Unless you're familiar with the trail already, only enter on the west side of the river.  Entering on the east side gets you on the Banning Channel Bikeway (which does connect up to PCH's northern side and eventually hooks up to SART to the north, so you won't get lost … but just stick with SART … unless you're trying to get to Talbert Regional Park).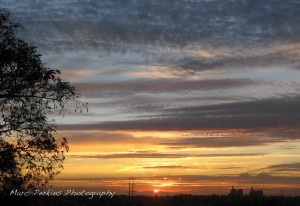 Don't miss: At the top of the hill just to the east of the river (less than a quarter mile off the river trail) there's a lovely little park called Vista Park.  The park has bathrooms, a water fountain, and benches with glorious vistas of Huntington Beach and the Santa Ana River (especially pretty at sunset).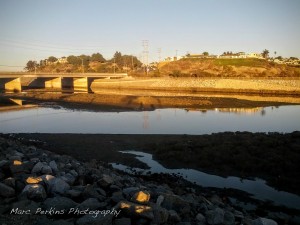 Bonus entrances for Huntington Beach peeps
North of Victoria there are two entrances on the west side of the river that connect only to Huntington Beach.  The first is at the east end of Atlanta Ave. and the second is at LeBard Park.  Both require a short stint uphill to reach SART.
Atlanta Ave (Huntington Beach only)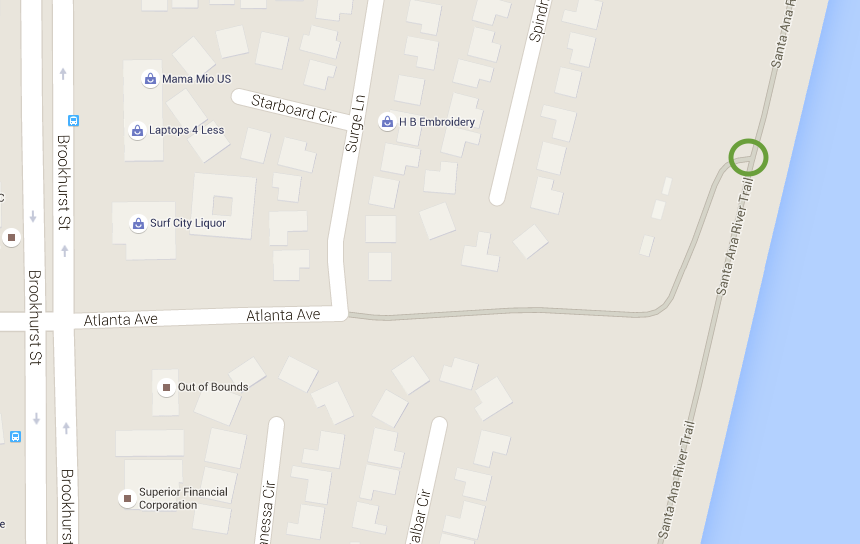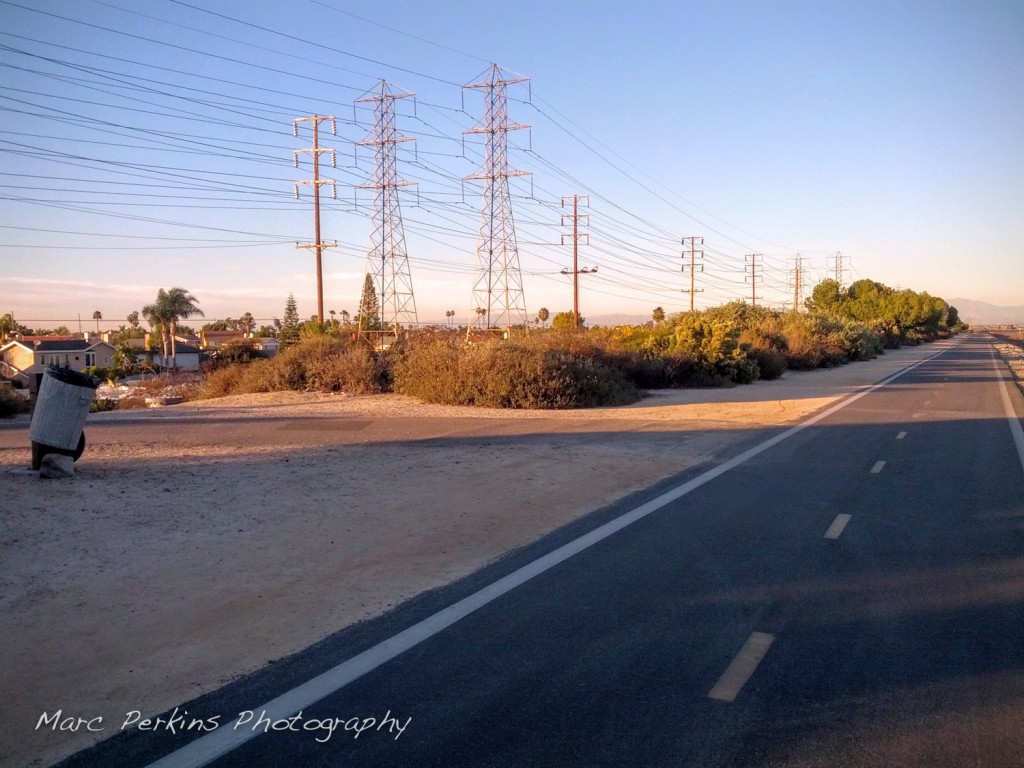 The Atlanta Ave. exit is simple enough (just keep going east on Atlanta until you hit the river), except for the fact that it's easy to miss as you're rolling on SART.  As the photo caption says, keep an eye out for that trash can!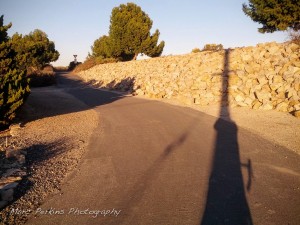 LeBard Park (Huntington Beach only)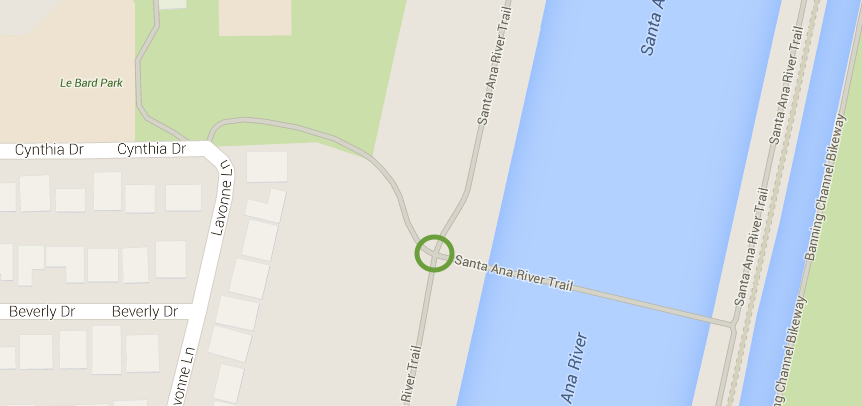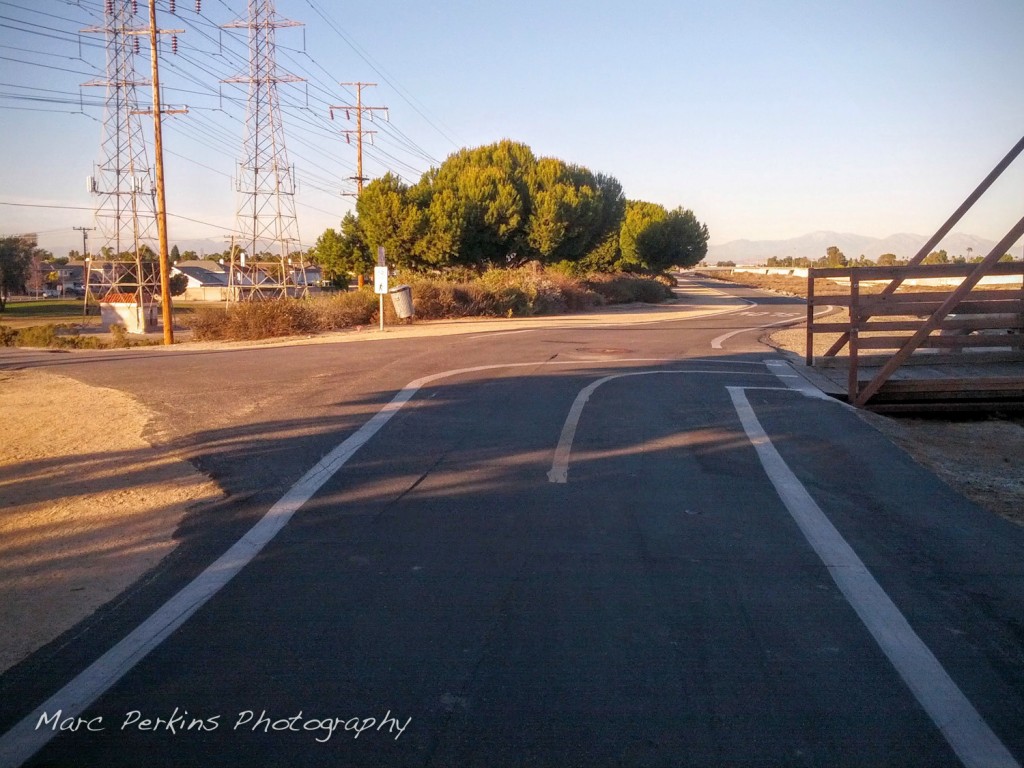 The LeBard Park entrance to the trail is found in a little residential neighborhood that's difficult to get to.  Just south of the Brookhurst and Indianapolis intersection is tiny Hercules Drive; take Hercules Drive east, then go north briefly on Suburbia Lane (really?), and finally take a right on Cynthia Drive.  As the intersection of Hercules and Brookhurst has no stoplight, if you need to cross Brookhurst do it at the nearby Brookhurst and Indianapolis light.
If you're looking to avoid riding on Adams Avenue in Huntington Beach, try Indianapolis – it has a nice bike lane and far lower traffic volume, and parallels Adams nicely.  And, if you want to head from Indianapolis to the Santa Ana River Trail, LeBard Park's your best entrance.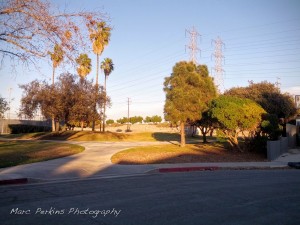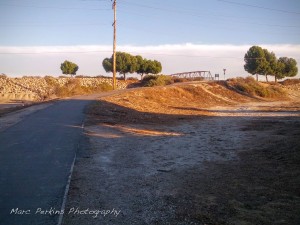 Landmark: bridge over the Santa Ana River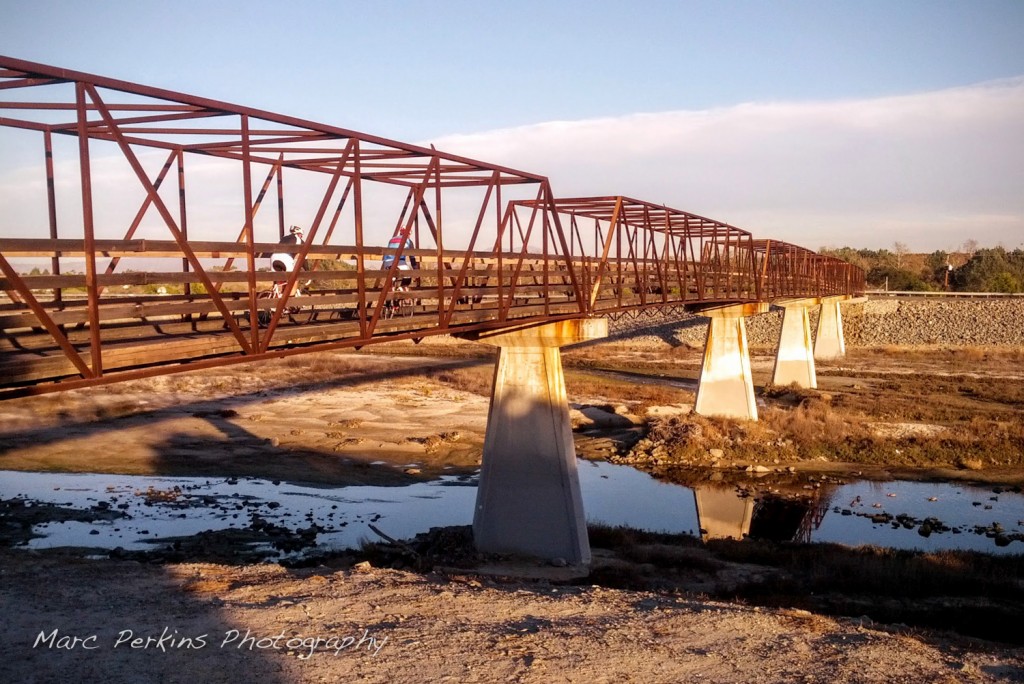 To help you keep your bearings there's a super-easy landmark to use in Costa Mesa: SART crosses the river on a lovely little bridge between Victoria and Adams.  This bridge is at the LeBard Park entrance from Huntington Beach, and a bit south of the Fairview Park entrance.
Should I cross the bridge? The eastern side of SART is fenced off just south of this bridge, so users wanting to head towards the beach must cross to the western side of SART at this point.  And, as the western side of SART becomes unpaved just north of Adams Ave., cyclists looking to head further inland than Adams should cross from the western side to the eastern side of the river on the bridge.
Look out: the bridge's riding surface is a bunch of wooden boards laid perpendicularly to the direction of travel; it's safe to ride on, but expect to get a nice massage and plan to go a bit slower than you otherwise might want to.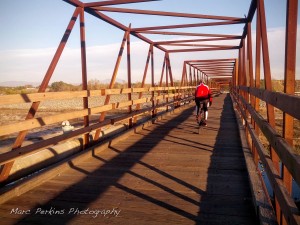 Fairview Park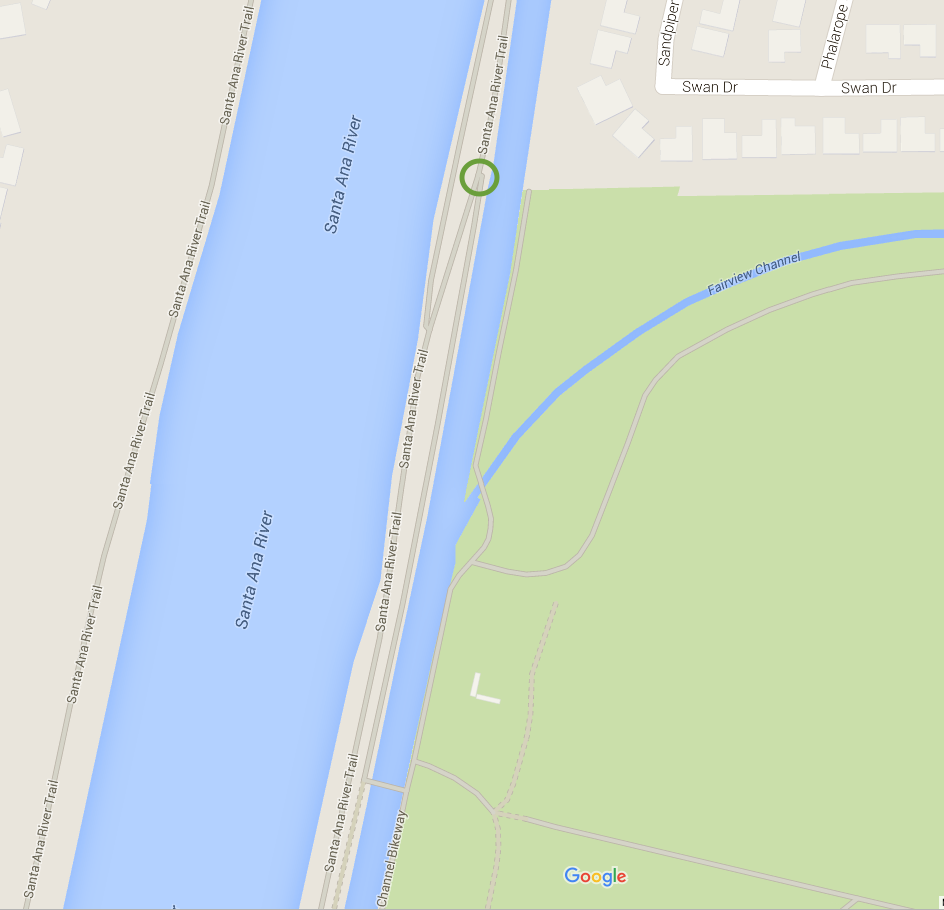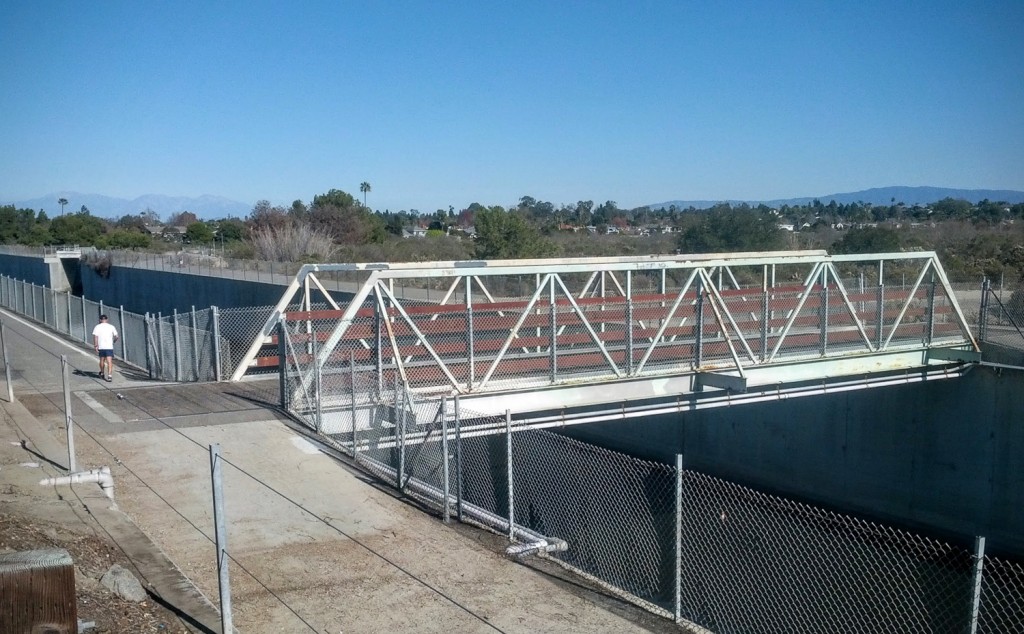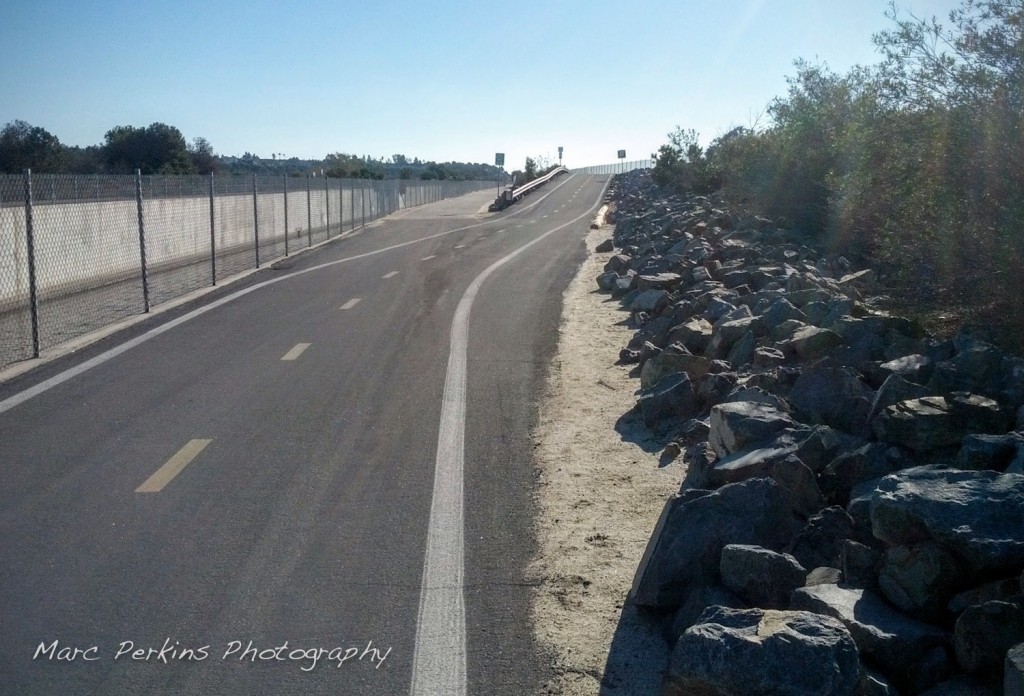 Just north of the bridge on the east side of the river is an entrance to Fairview Park (which connects with Placentia Ave and also Talbert Park).  However, it's hard to find: you have to travel well north of the bridge on the river trail, head to the right at the Adams Ave. exit fork (i.e., continue on the trail and go downhill), make a U-turn once you're at the base of the little decline just after the Adams Ave. exit fork, and then go back (heading towards the ocean) about a thousand feet before you reach a bridge that takes you over a drainage channel and into the park.  Why couldn't they just put a stairway or a ramp closer …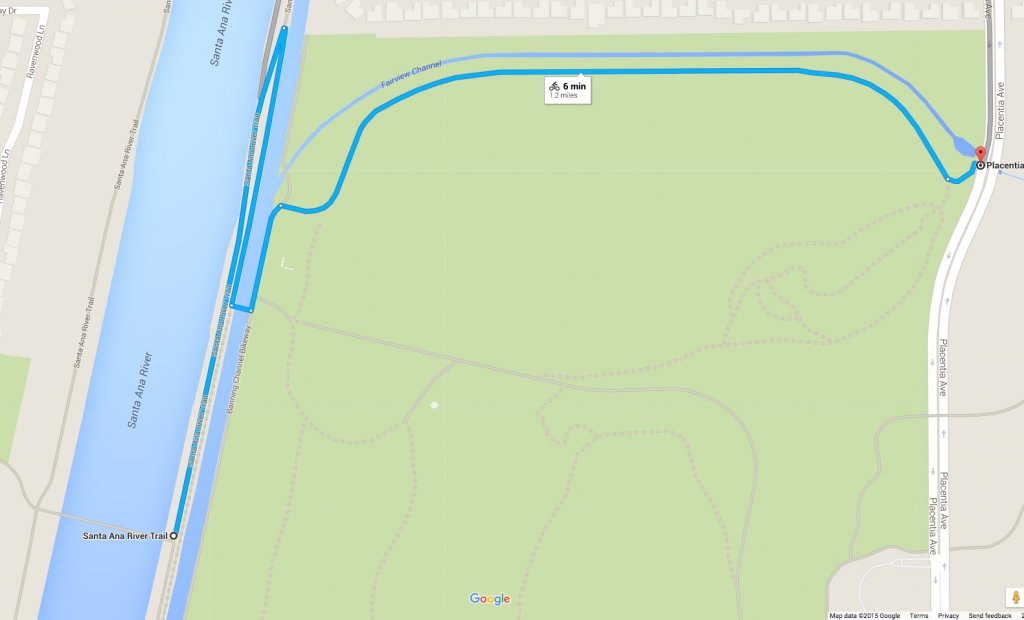 Keeping to the north edge of Fairview Park allows you to get to the western side of Placentia Avenue on a paved trail, exiting onto Placentia through an easily missed small entrance.  But look out: there's a roughly 50′ climb in both directions of Placentia from that junction 🙂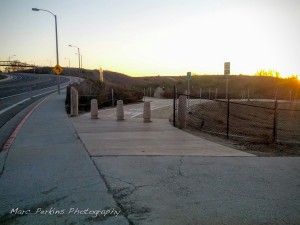 Fairview Park has both an elevated section (on the mesa) and a lower section (which is what you enter from SART).  In the lower section they're restoring the native wetland and riparian landscape, complete with multiple pools and some streams; it can be fun to wander around, but most of the paths are gravel.  The elevated section has bathrooms, water fountains, a BMX bike park, a remote-controlled airplane area, and benches with nice views.  At the base of the western edge of the mesa there's a  secret tree-filled grassy park (Talbert Park, a portion of the Talbert Nature Preserve I believe) that's absolutely lovely in summer; few people know about it!
Caution: Many of the pathways in Fairview Park are gravel.
Adams Ave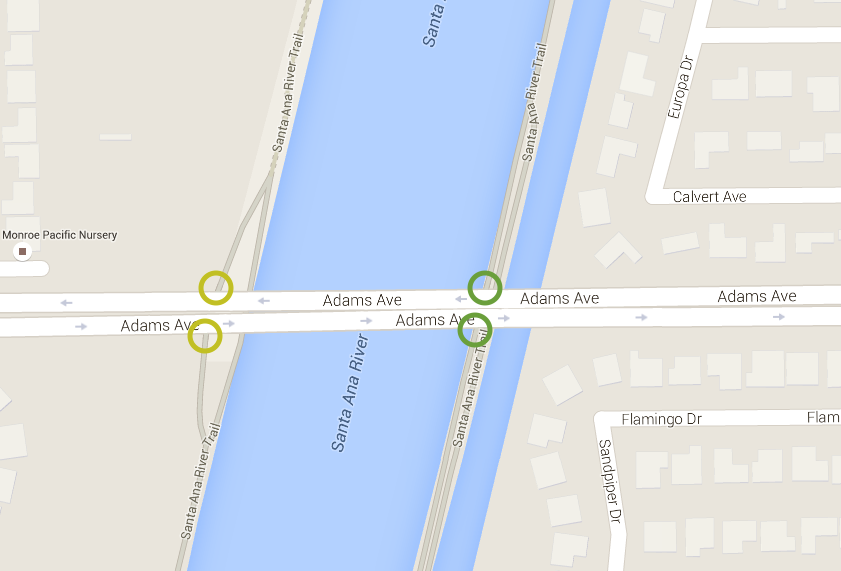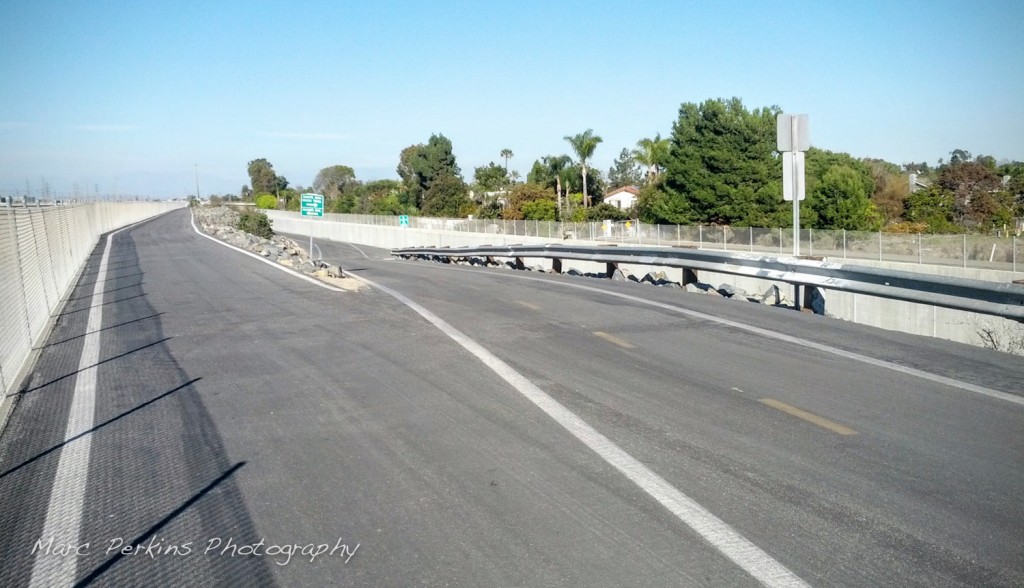 Coming from Costa Mesa, enter SART on the eastern (towards Costa Mesa) side of the river trail; the trail hooks up to both the north and south side of Adams Ave.  The south-side connection runs next to (and slightly above) SART for roughly 1,500 feet before it actually hooks up with the trail, so don't worry if it looks like you're in the wrong place.
To get much of anywhere in Costa Mesa from this entrance you'll need to go up the ~50′ hill on Adams just before it hits Placentia, so be prepared for that.
Caution: Entering SART from Adams on the western side of the river should be done with caution, as the river trail turns into a dirt trail just north of Adams Avenue.  You can enter SART on the west side of Adams (both the north and south side of the street), just realize that if you go north from this point you'll be riding on dirt for a long way.  However, you can go south from this entrance just fine (albeit after crossing over a tiny bit of dirt), and it's paved all the way south until you hit the bridge and join the main SART traffic (the tunnel that crosses under Adams is paved as well).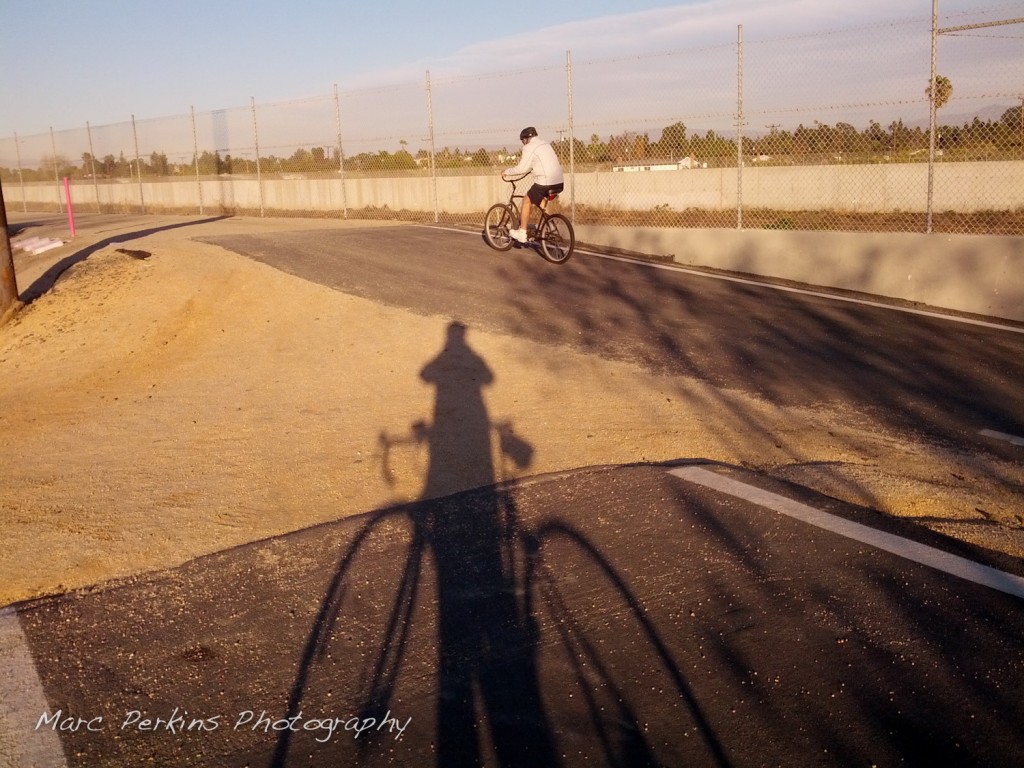 Estancia Park, at the northwest corner of Adams and Placentia, is home to the Diego Sepulveda Adobe, bathrooms, water fountains, and some nice benches.  It's about a half mile off of the trail to the east, and requires you to go up the ~50′ hill on Adams.
Gisler Ave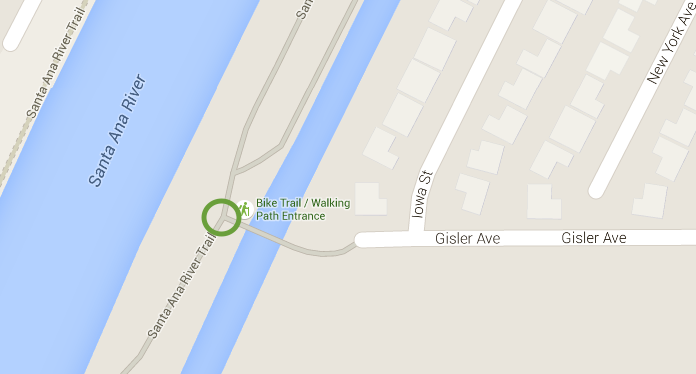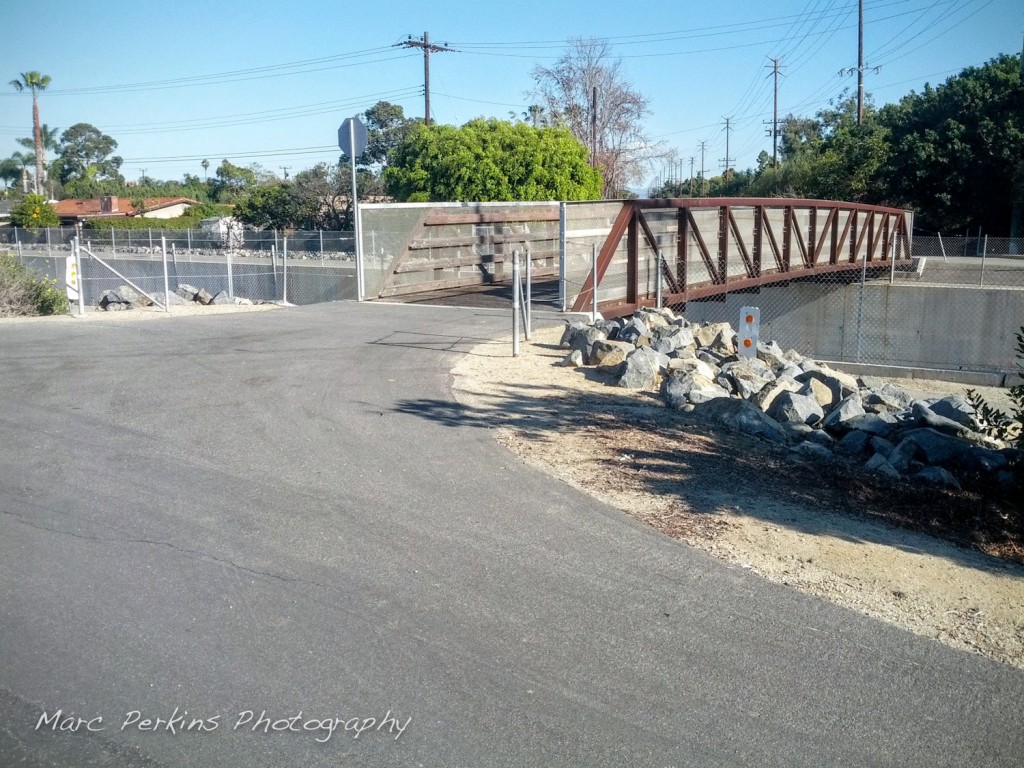 Take Gisler all the way west until it ends and you'll hit SART after crossing over a small bike-friendly bridge.  This entrance only connects up to the eastern side of SART, but that's fine because that's all you need (as only the eastern portion of SART is paved from Adams up north for quite a ways).  There's only a very short hill (maybe 20′?) along Gisler before you reach SART, so it's an easier entrance than Adams or Victoria in that regard.
Gisler's a great street to bike on (good bike lane and low traffic), so I highly recommend this entrance if you're at all close to it.
There are no services near this entrance (unless you want to ride 1.1 miles to the In-N-Out and gas stations at the corner of Gisler and Harbor)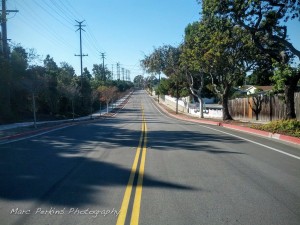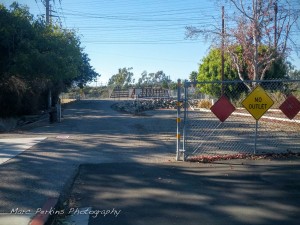 Moon Park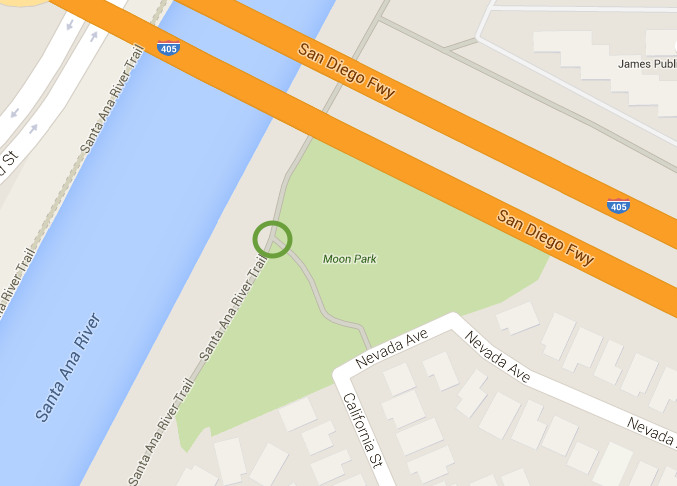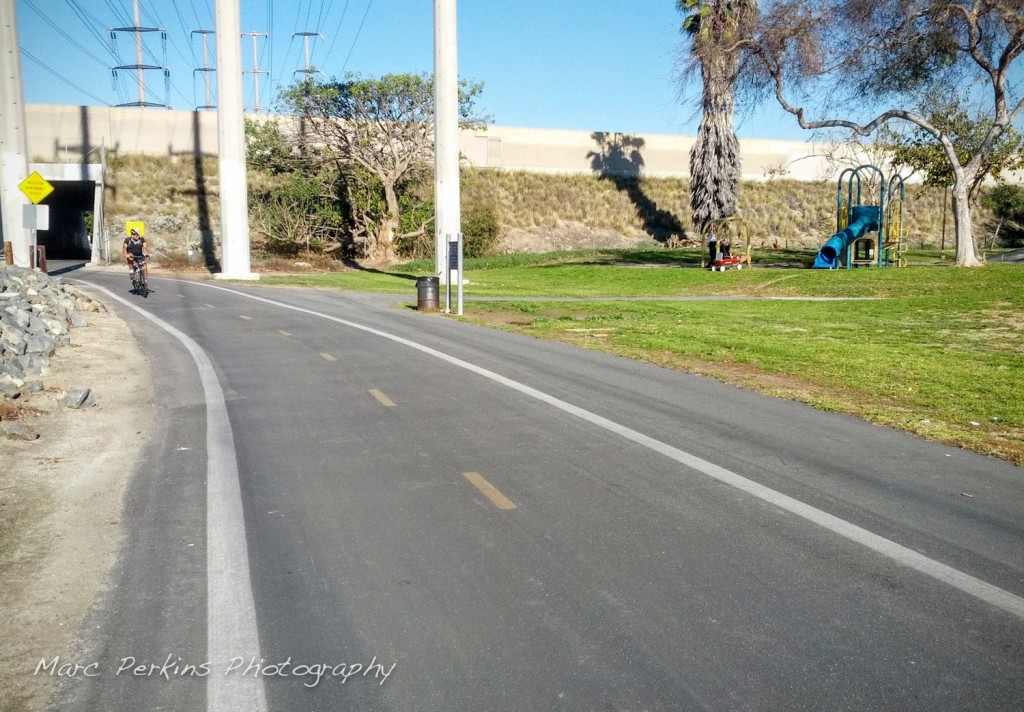 Located in a residential neighborhood just to the south of the 405 is Moon Park, which is one of my favorite entrances to SART when I'm heading to parts north.  The park is directly on SART, so it's a super-easy entrance and exit to use.  To get to Moon Park take California St. north from Gisler (at Tewinkle school); it's an easy ride on low-traffic streets with a bike lane practically the whole way (the park will be at the end of California Street, just as California St. turns into Nevada Ave.).  Moon Park is at the level of SART, so there are no hills to enter or exit the trail here.
Moon Park has water fountains, a couple of benches, and a concrete moon sculpture for kids to climb on (and adults too, if you want), but no bathrooms.   There are no commercial services near this exit.
Just north of Moon Park is a tunnel that runs underneath the 405; no worries about freeway traffic here!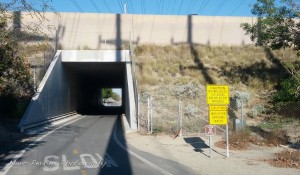 Bad intersection avoidance: If you're looking to avoid having to cross the 405 at Harbor (which is terrible for bicyclists), I strongly advise biking over to the Gisler or Moon Park entrance and then taking SART north to either the Sunflower or MacArthur exit.  It doesn't add on that much distance, but reduces the stress of horridly designed intersections manyfold.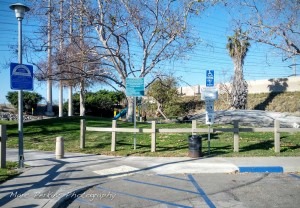 Sunflower Ave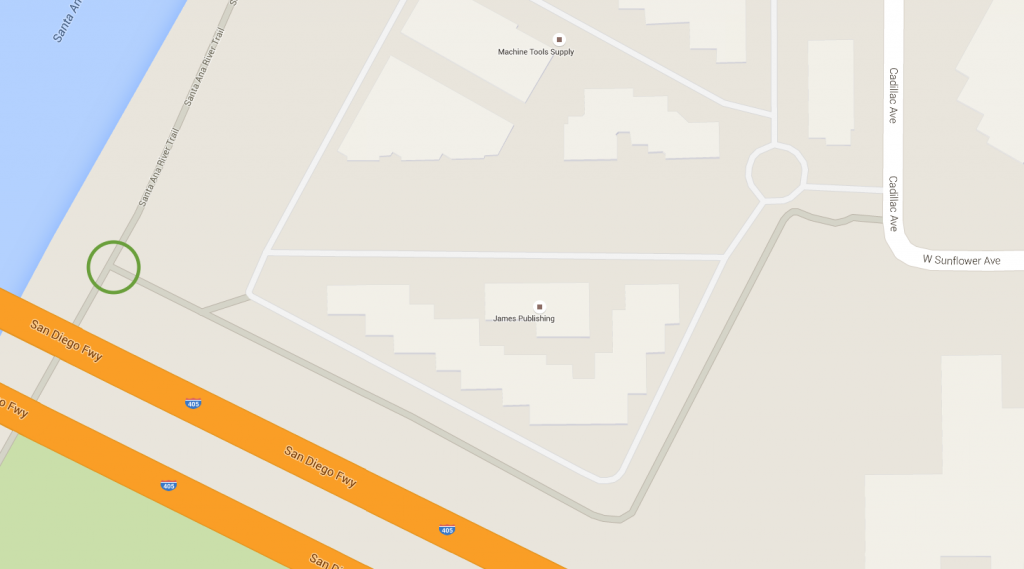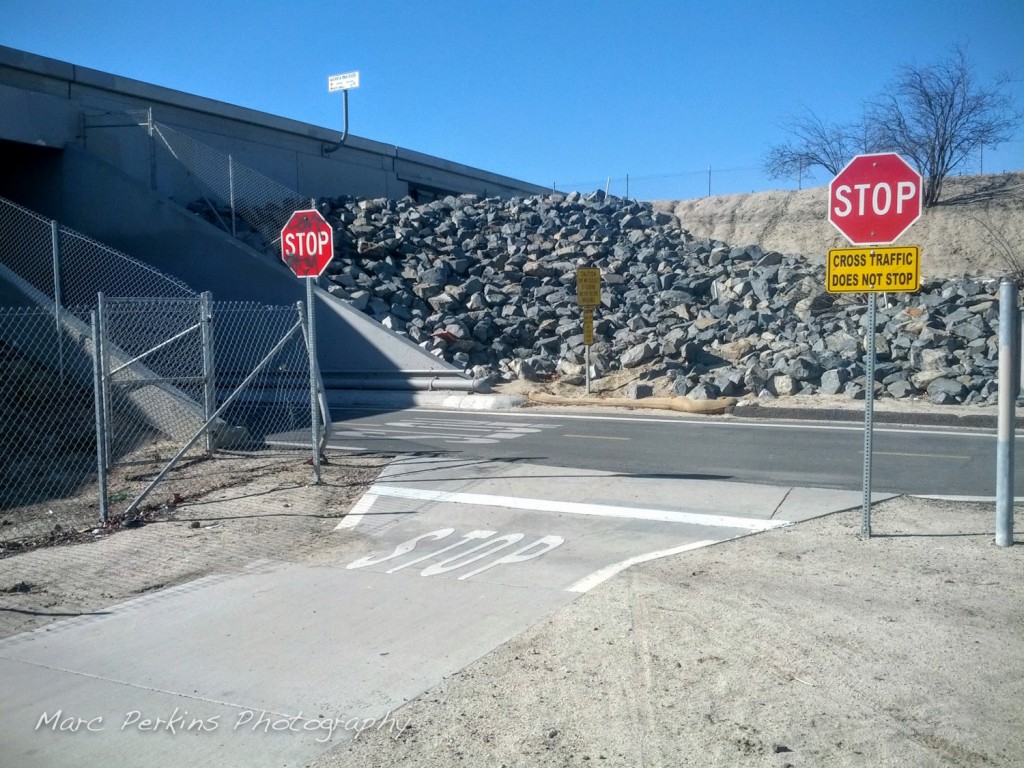 Just north of the 405 tunnel is a nearly invisible entrance/exit to SART at Sunflower Avenue.  And when I say just north, I really mean just north.  (I rode SART for years before I even saw this entrance, as my vision was always focused on the tunnel and/or hill in this area.)
This entrance is also hard to find from the street as well.  From the west end of Sunflower look for a small trail that leads you to SART.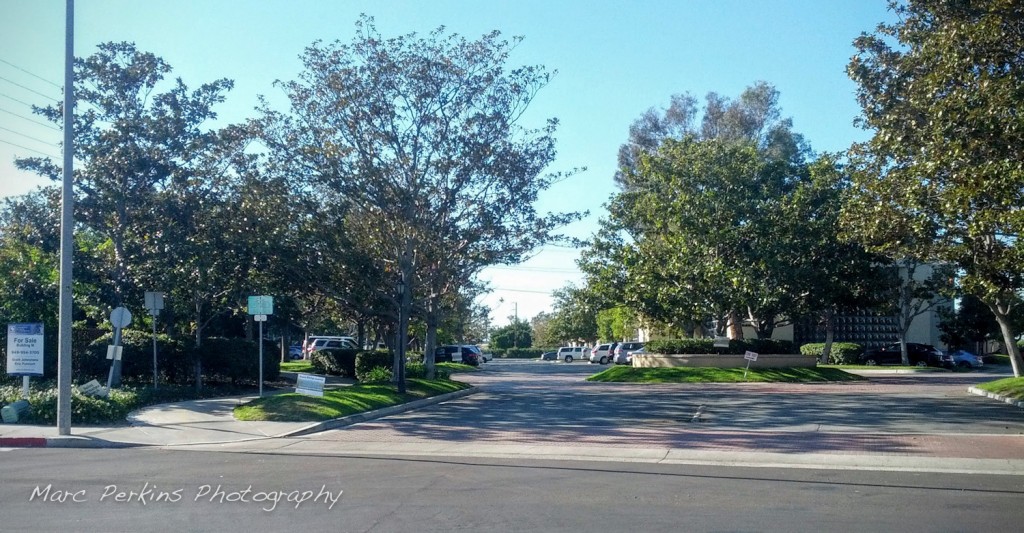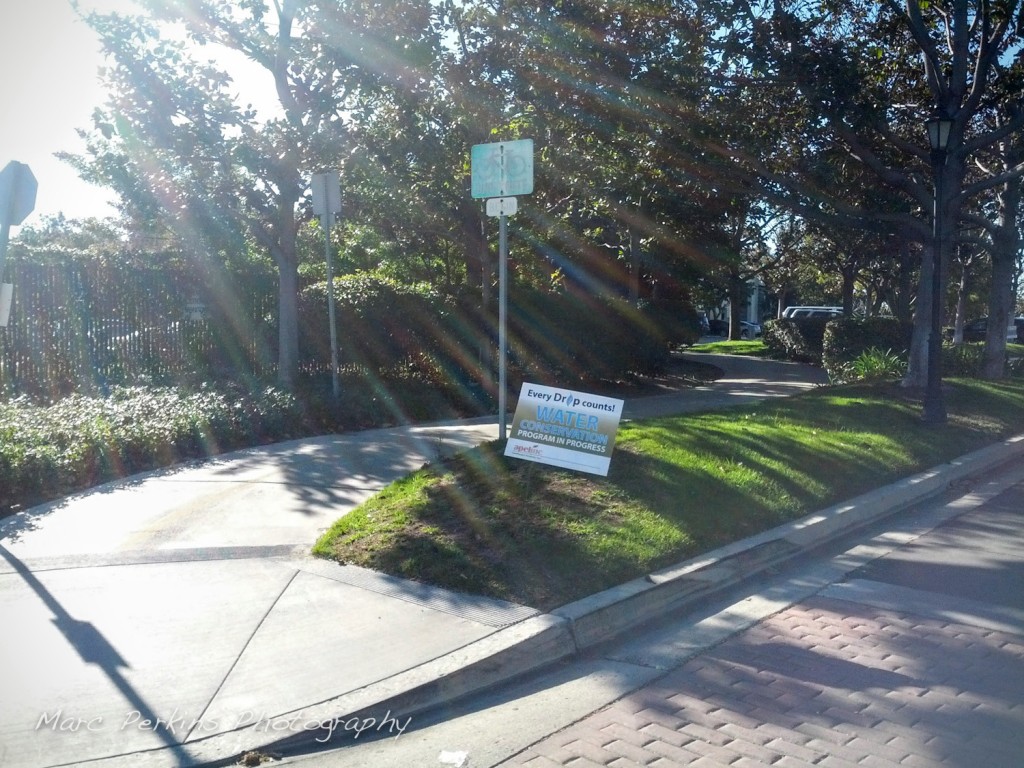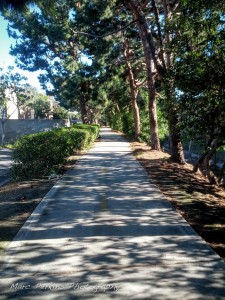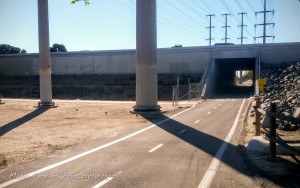 Sunflower's at the level of SART here, so there are no hills to enter or exit the trail.
Sunflower hooks up to many destinations in Costa Mesa, including the SoCo Collection (home of Portola Coffee, among other places) only about a half mile off the trail.  If you're up for more adventure, South Coast Plaza is about 2.75 miles off the trail from this exit; to get there take Sunflower east to Highland, then take Highland south, which then turns into South Coast Drive, which takes you directly to South Coast Plaza.  You can also get to IKEA on the same route (IKEA is about 1.25 miles off the trail at this exit).
MacArthur Blvd (Talbert Ave.)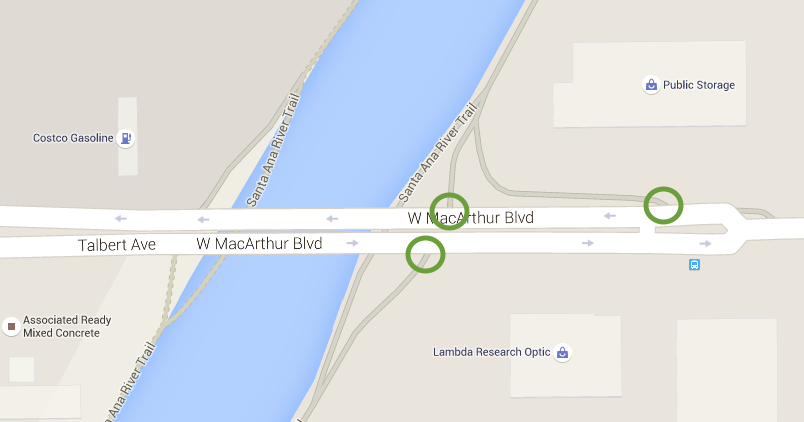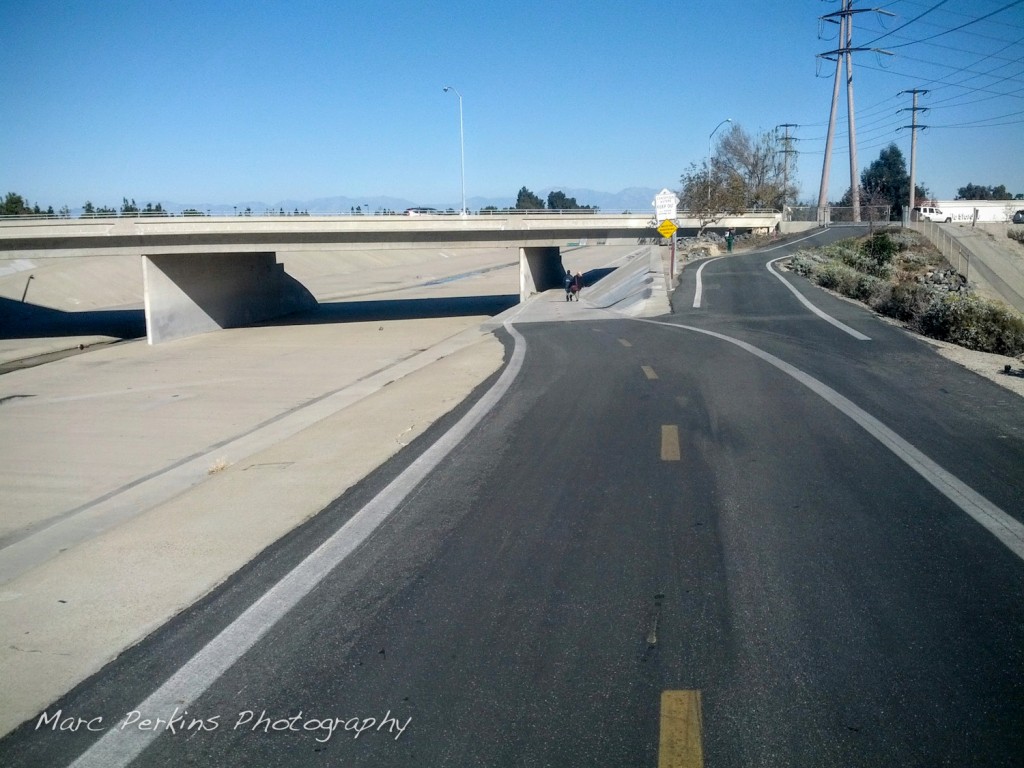 There are easy connections to SART on both the north and south side of MacArthur Blvd.  As with the rest of SART in this area, only enter the trail on the east side of the river, as the west side is dirt.
MacArthur has a tremendous amount of businesses on it in this region.  To the west of SART there's a Starbucks, Petsmart, Costco, Taco Bell, McDonalds, and a bunch more about a quarter mile off the trail.  To the east of SART there's a Carls Junior, Del Taco, Home Depot, and the Kaiser Harbor-MacArthur medical building all just about three-quarters of a mile from the trail.
Disclaimer: the information above is accurate to the best of my knowledge, but always check the directions and safety of the routes yourself before riding, as conditions may have changed (and I could just be wrong).