[For more background on Costa Mesa's new Active Transportation Plan, see my five-part series on the plan.]
After more than an hour and a half of presentations, public comments, and discussion, the Costa Mesa City Council adopted the city's draft Active Transportation Plan at their meeting last night.  The vote was 4-1 in favor, with Mayor Genis and Council members Foley, Righeimer, and Stephens voting in favor and Mayor Pro Tem Mansoor voting against the motion.
This is an exciting moment for users of active transportation in Costa Mesa, as the new plan includes proposals for dozens of miles of new or improved facilities for people who get around by bike, foot, or other forms of active transportation.
To illustrate the change this plan could bring about, here was the state of the city's active transportation infrastructure last year: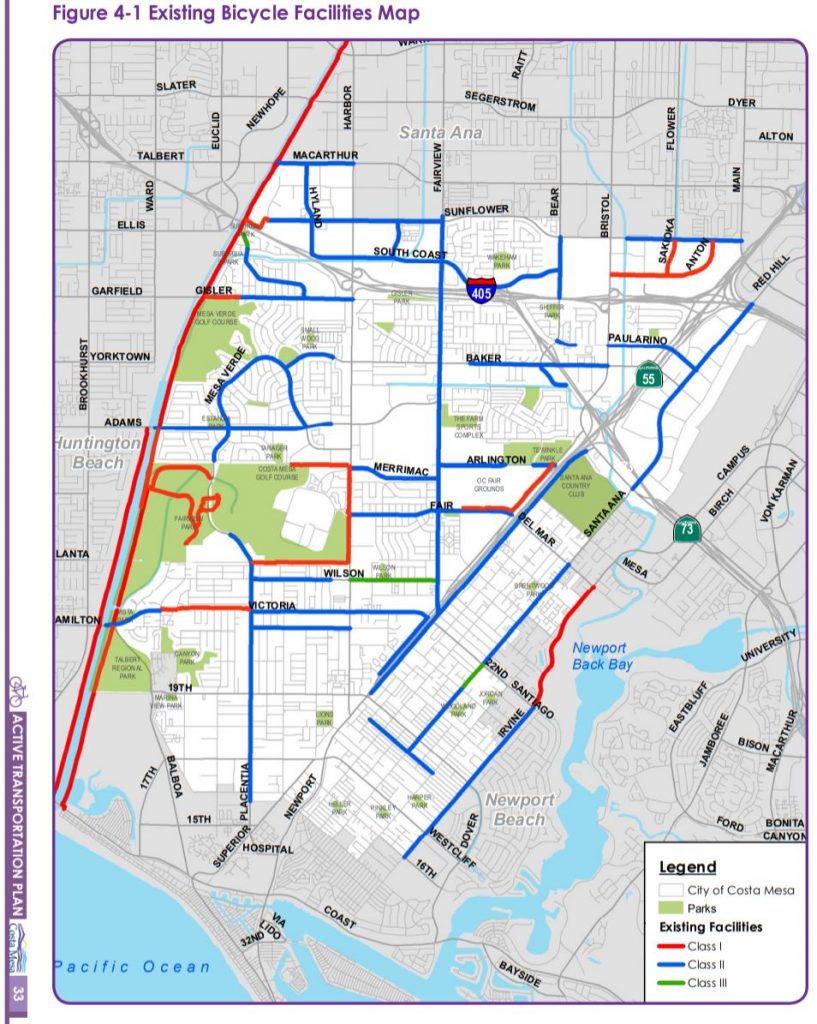 Of note is that there are many gaps in the city's active transportation infrastructure, and that most of the city's existing facilities are on-street bike lanes (indicated as blue lines on the map) or bike routes (green lines) that lack any protection from cars besides paint.
With that context, the plan the City Council adopted is a stunning improvement: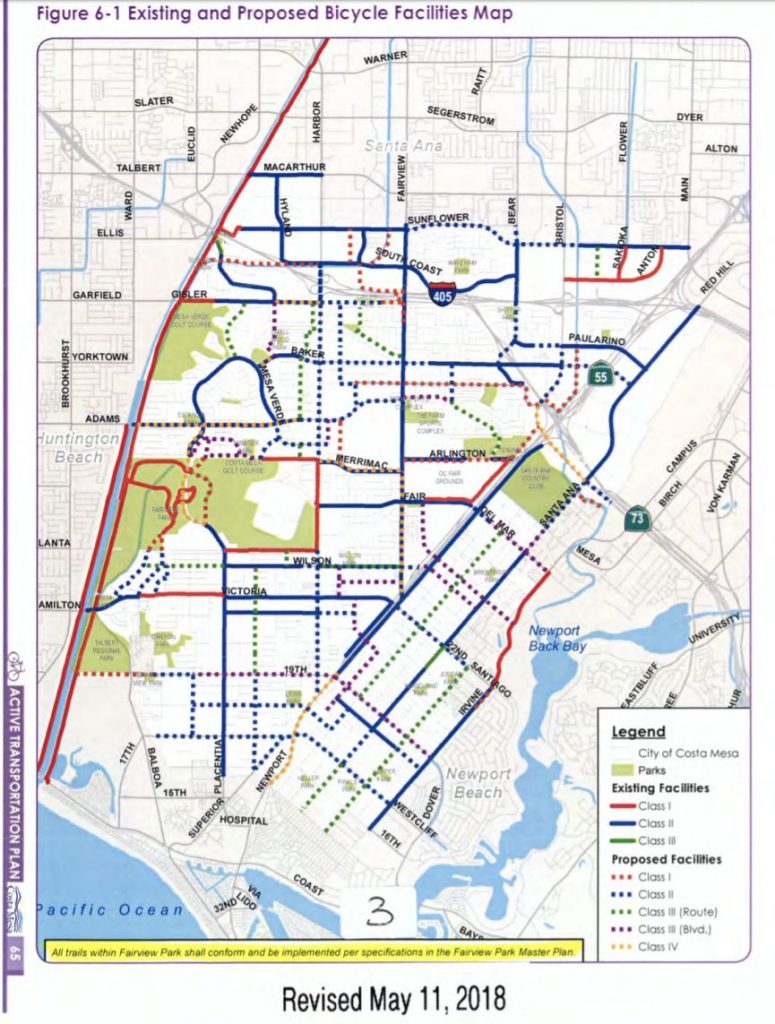 The new plan includes a tremendous amount of connectivity – users of active transportation wanting to get from one part of the city to another will be able to do so on facilities that link together seamlessly.  Additionally, the plan includes the creation of roughly 15 miles of protected bike lanes and off-street multi-use trails, where bicyclists and other active transportation users are protected from cars by solid barriers or curbs.  These improvements should dramatically increase the appeal of active transportation to residents of the city, thus helping reduce traffic in Costa Mesa and helping our residents be happier, healthier, and more engaged (as users of active transportation tend to be more locally-focused).
The only major change made to the plan at the meeting was the deletion of the Class I trail extending from the end of 19th Street through Talbert Regional Park to the Santa Ana River Trail, due to that area being subject to county planning, not city planning.
While we should celebrate this moment, a great plan is, of course, only the start: the city and its residents now need to prioritize and fund these projects, to help make the bright future this plan presents to us a reality.