When I got my road bike last July I discovered that I loved to take it on 20 or 30 mile rides, and started dreaming of going further.  So, I asked around about good first centuries to aim for, and one event kept getting mentioned again and again: Tour de Palm Springs (with Cool Breeze in Ventura also getting many votes).
The timing was perfect – Tour de Palm Springs happens every year in January or February, so that gave me months to train up.  I followed a training plan from Burke and Pavelka's The Complete Book of Long-Distance Cycling
, which helped me slowly increase my cycling distances from ~50 miles a week about 3 months ago to 150 miles a week in the two weeks before the century*.
The route
The Tour de Palm Springs has 10, 25, 50, and 100 mile cycling routes, all of which begin and end in downtown Palm Springs.  I did the 100 mile route, which looked like this:
The route was about 101 miles and climbed a total of 2,700 feet, with most of that elevation gain being gradual, low-grade slopes.
Getting there
I drove to Palm Springs the day before and stayed in a hotel about a mile away from the start point; the hotel was fine with me leaving my car at the hotel after checking out, so I simply rode my bike to the start point Saturday morning. Many other riders were doing the same thing, as I was joined by dozens of cyclists on my short ride to the start.
Some of my friends drove in from SoCal that morning, so that's also an option (though given that the century starts at 6:30 or 7am, that means leaving LA/OC way too early).
Be sure to actually ride through the official start of the ride.  They had a giant "Tour de Palm Springs" banner up, a balloon arch to ride through, a band playing, and a bunch of volunteers and onlookers wishing every rider well ("You can do it!" "Have a great ride!").  They'd also blocked off the first starting streets to traffic, so we got to start on a bikes-only road with police guarding the route.  It was a lovely way to start!
Start time for the century
The organizers stated that "experienced and team riders" should start the century at 6:30am, while "the more leisurely rider" should start at 7:00am.  The later category is definitely me.
From what I can tell, the 6:30am start had lots of cyclists packed together in the start area, waiting in the dark and cold.  I didn't leave my hotel room until around 6:50am (after sunrise!), and when I arrived at the start location about 7 I stopped briefly for a picture, then casually rode through – no waiting, no lines, and I got to sleep in until 6:15 am 🙂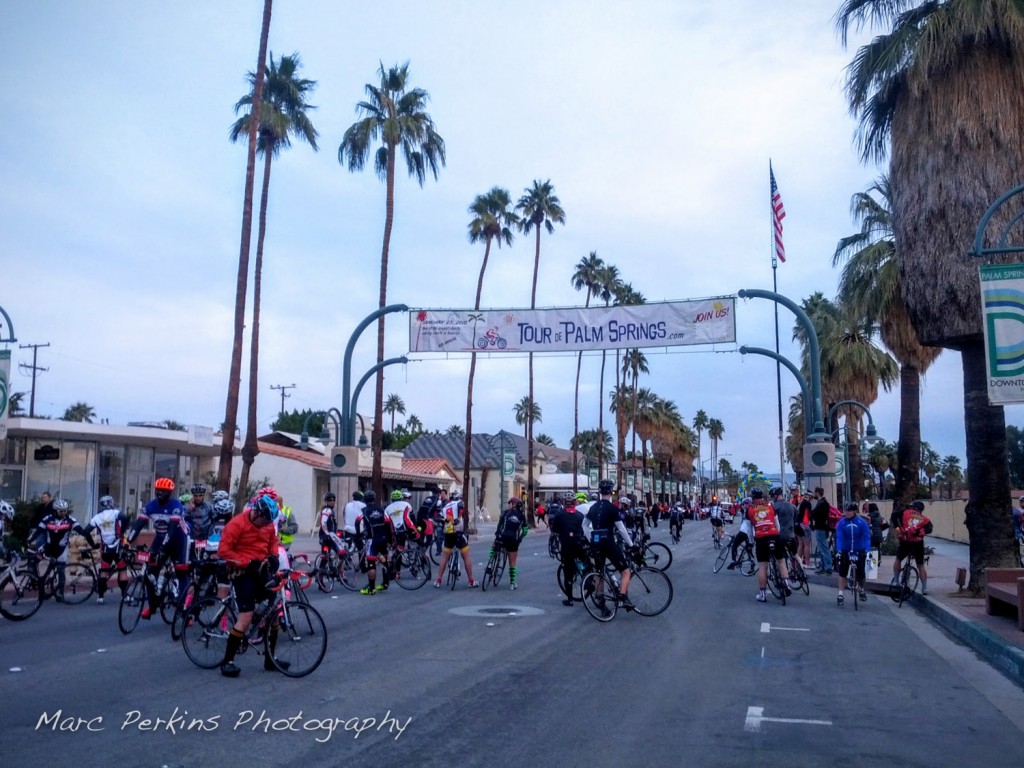 Images of the ride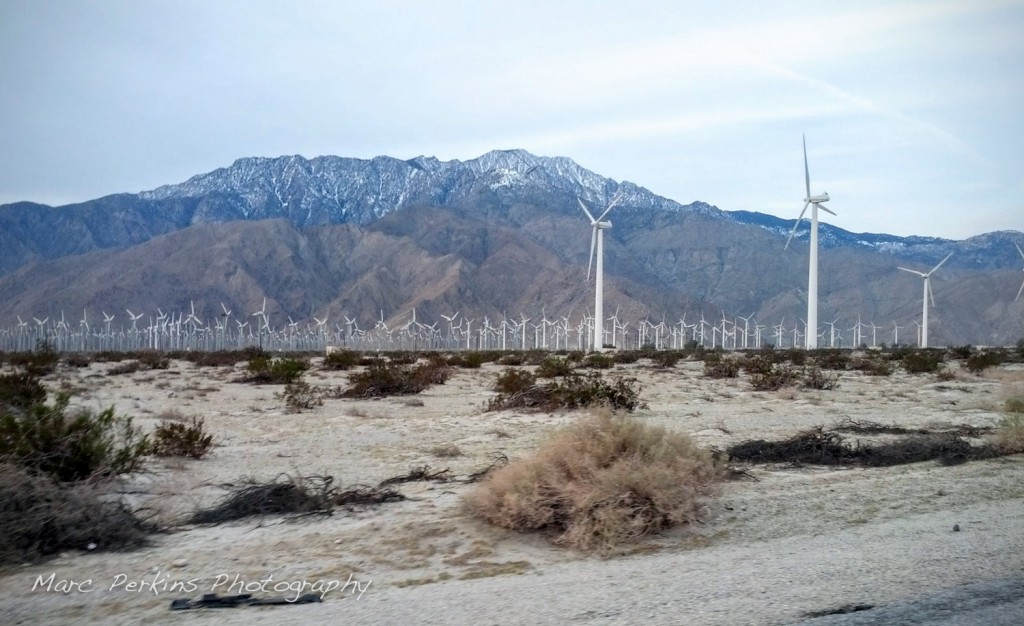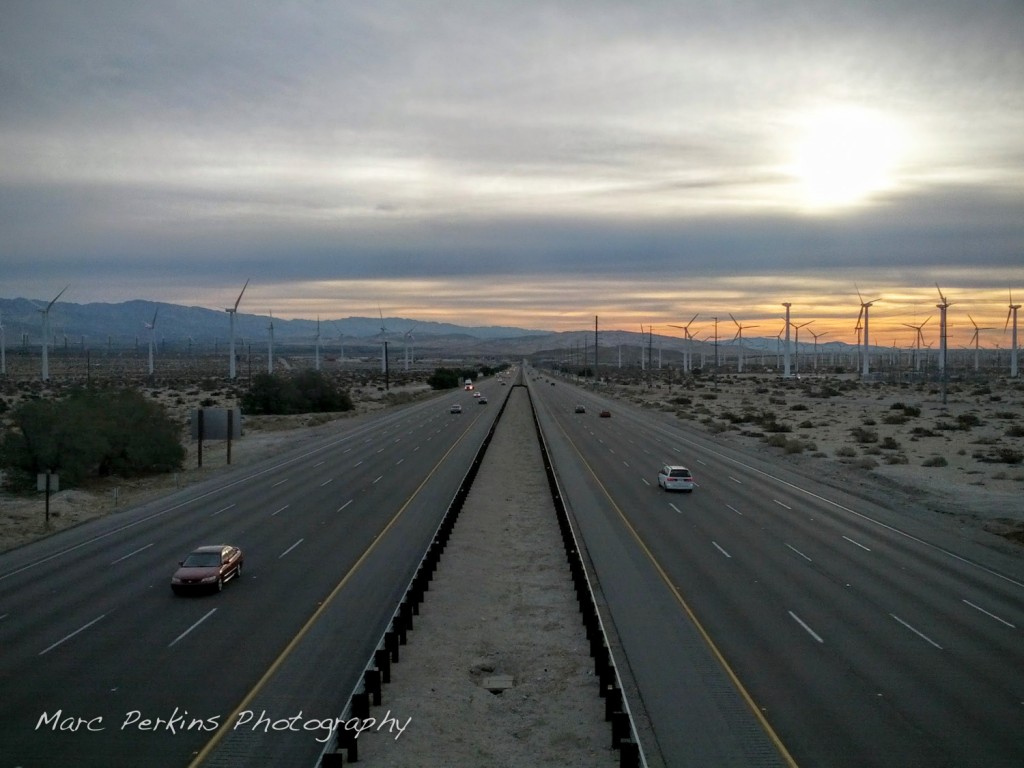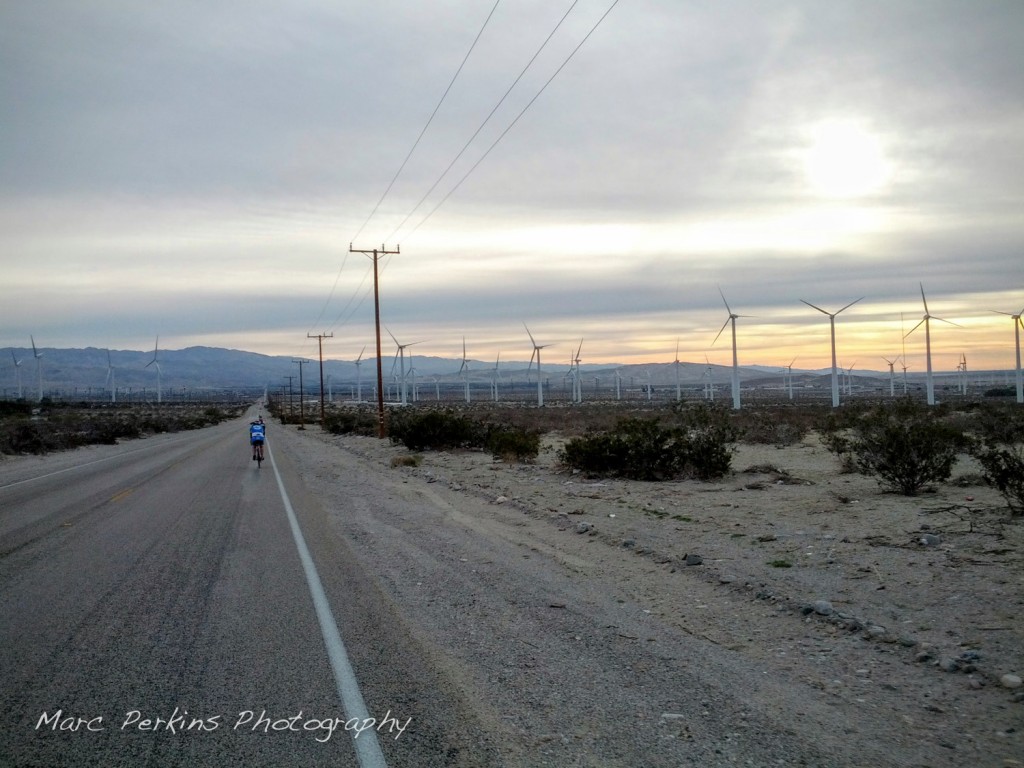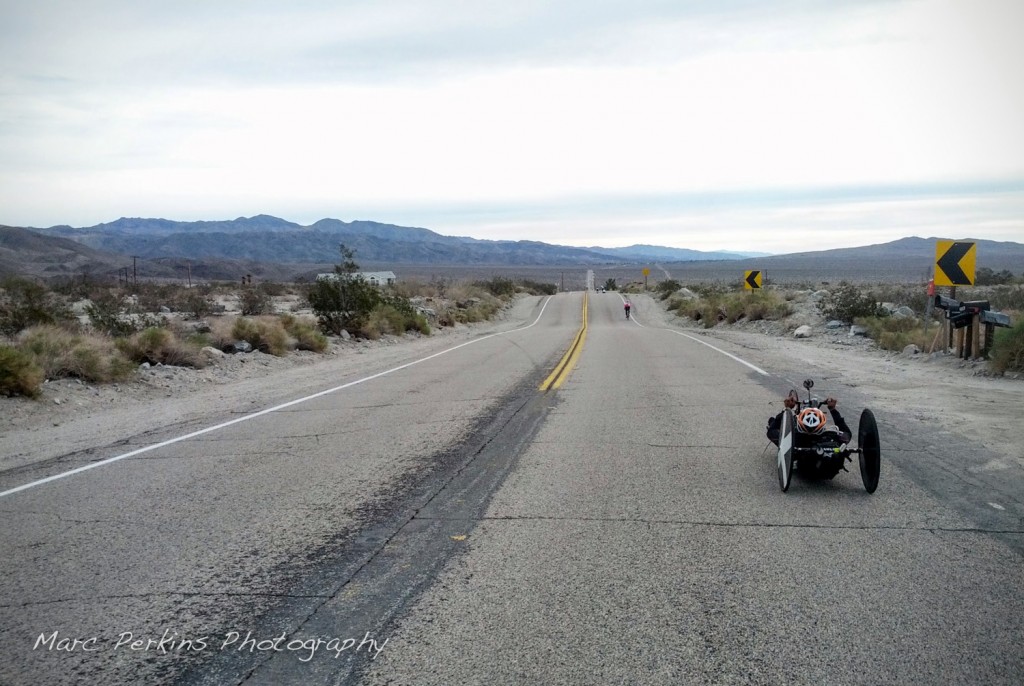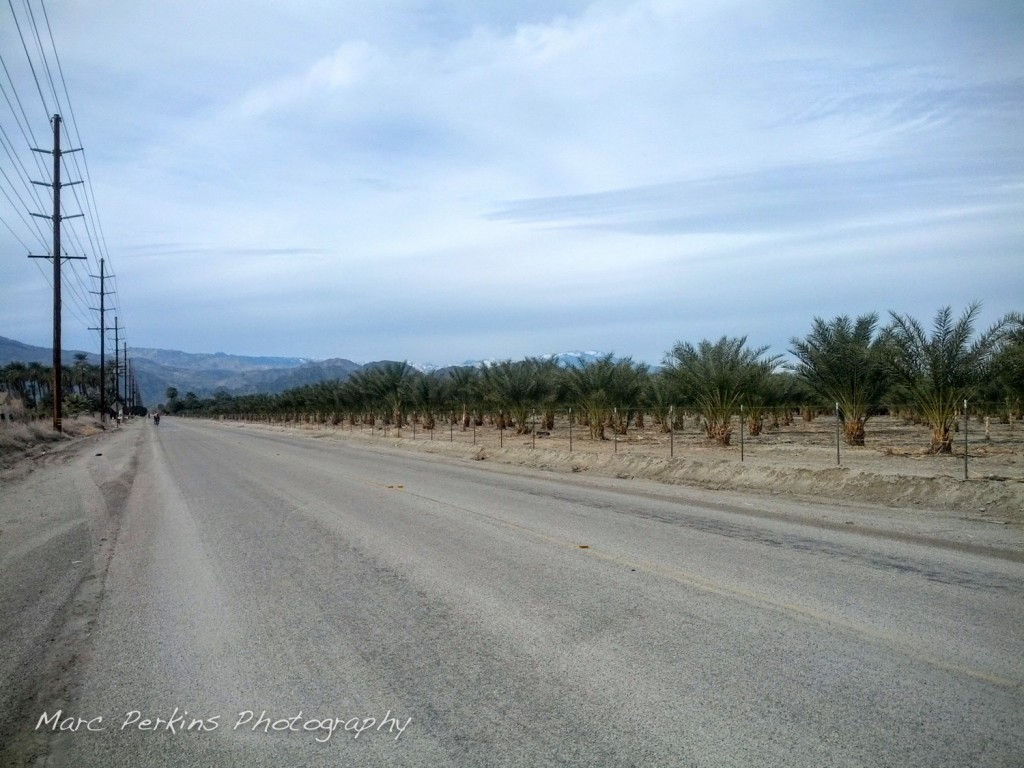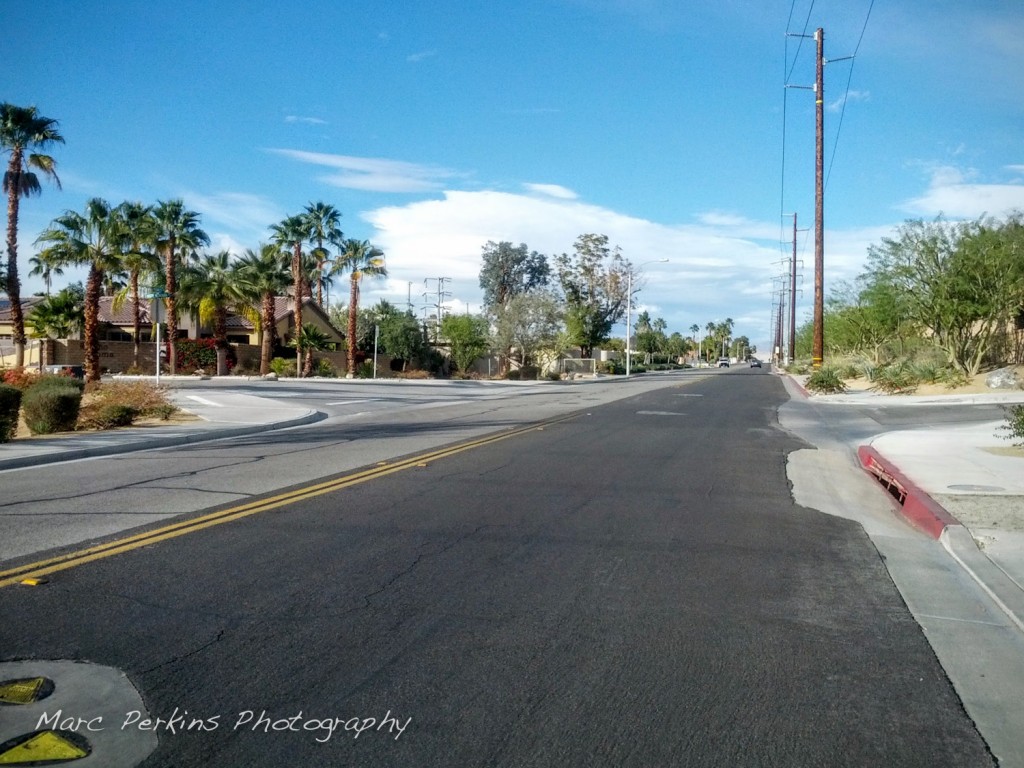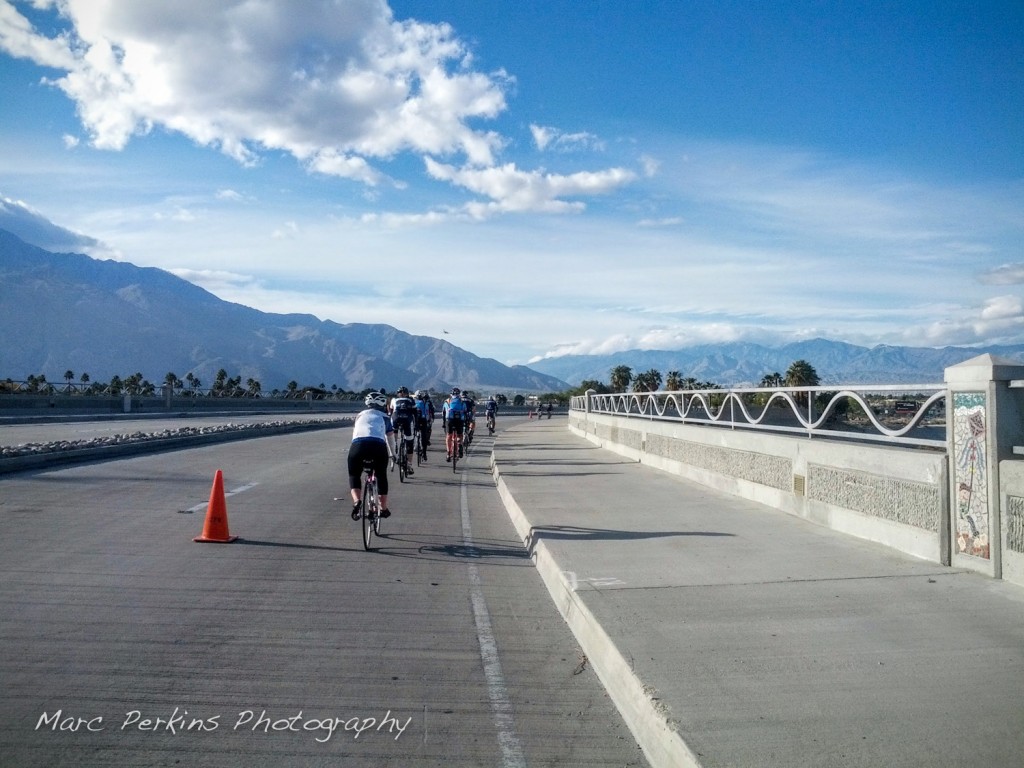 Directions and routing
The map they gave out at registration was low-resolution and too small to see much detail on, but they did have a cue sheet on the back with turns by mileage. I'd printed out my own custom map (zoomed in and double sided for more detail), but it was totally unnecessary: each turn was clearly marked by signs with color-coded arrows for each route (red arrows for the 100 mile route, blue arrows for the 50 mile route, etc.).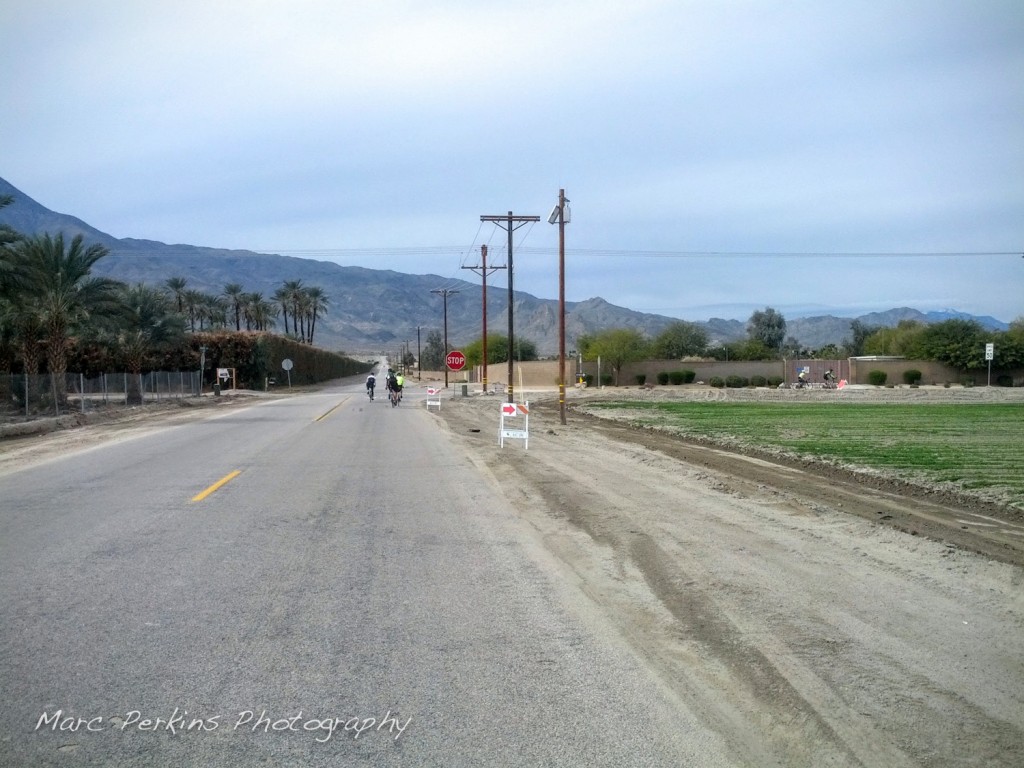 Given the number of riders on the route and the clarity of the signs, it would have been hard to get lost.  And even better than that, the vast majority of intersections outside of Palm Springs, Cathedral City, and Rancho Mirage were staffed by law-enforcement officers actively directing traffic.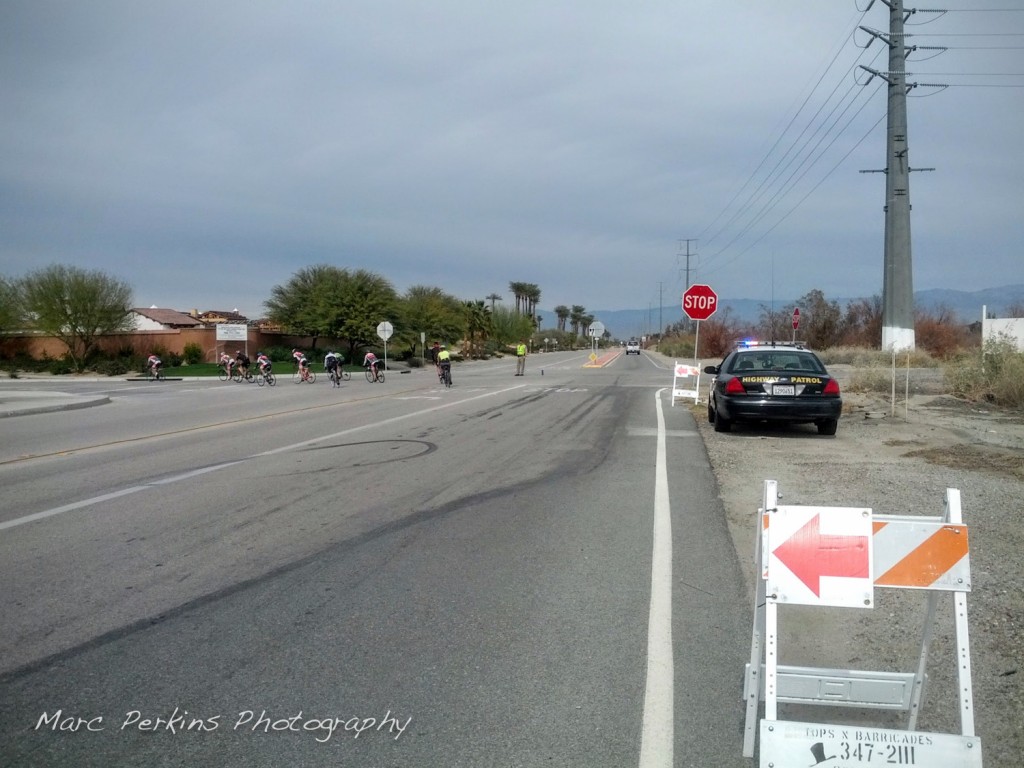 Probably the cheeriest sight I saw was that they had added a stop sign (complete with police officer standing next to it) in the middle of a long country road to facilitate our left turn at an otherwise uncontrolled intersection.
And in downtown Palm Springs we got our very own lanes, blocked off to cars by cones: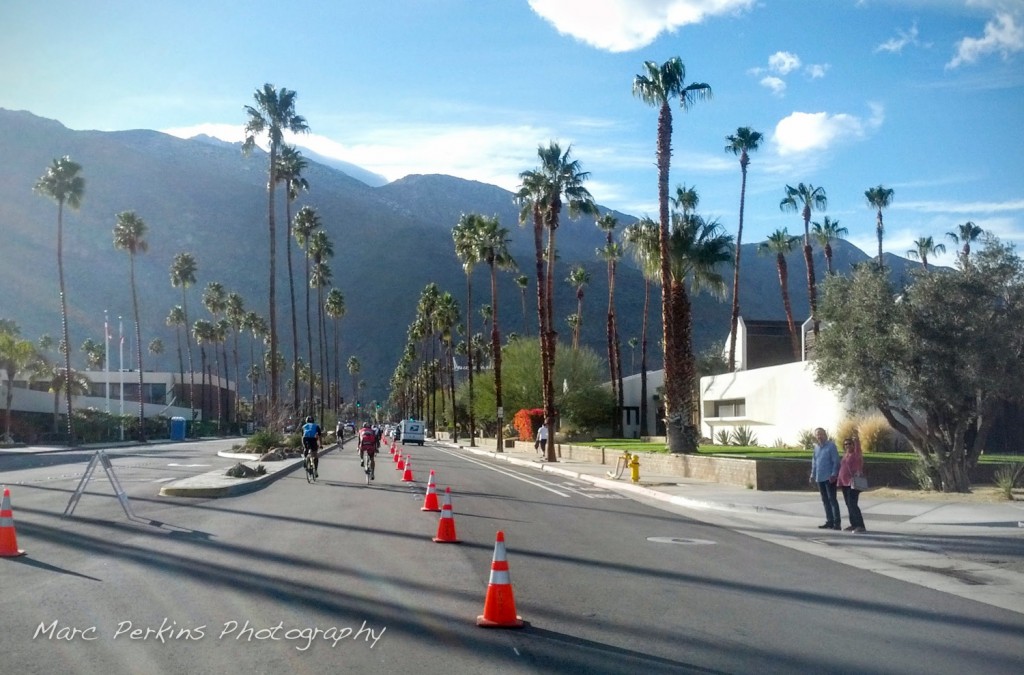 SAGs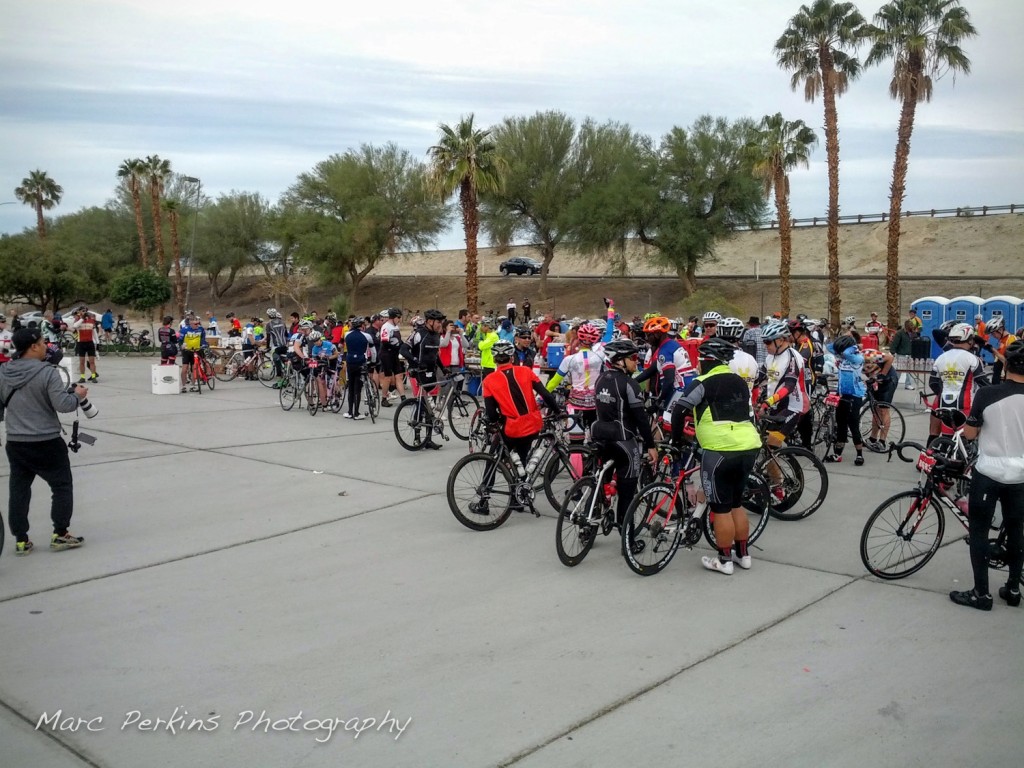 There were five rest stops (SAGs) scattered throughout the route at roughly the 17, 42, 57, 68, and 90 mile markers.  Four of the five were full SAGs; the middle SAG (57) was a mini-SAG with just bathrooms, water, and Gatorade.
For some background, I also volunteer as an official with roller derby.  Roller derby is a relatively small sport by comparison, and so we often just bring our own food to events and everyone shares one or two portable bathrooms.  And when we do get food provided, it's often a small affair arranged by a few loving skaters putting an assortment of homemade noms on a table for the officials.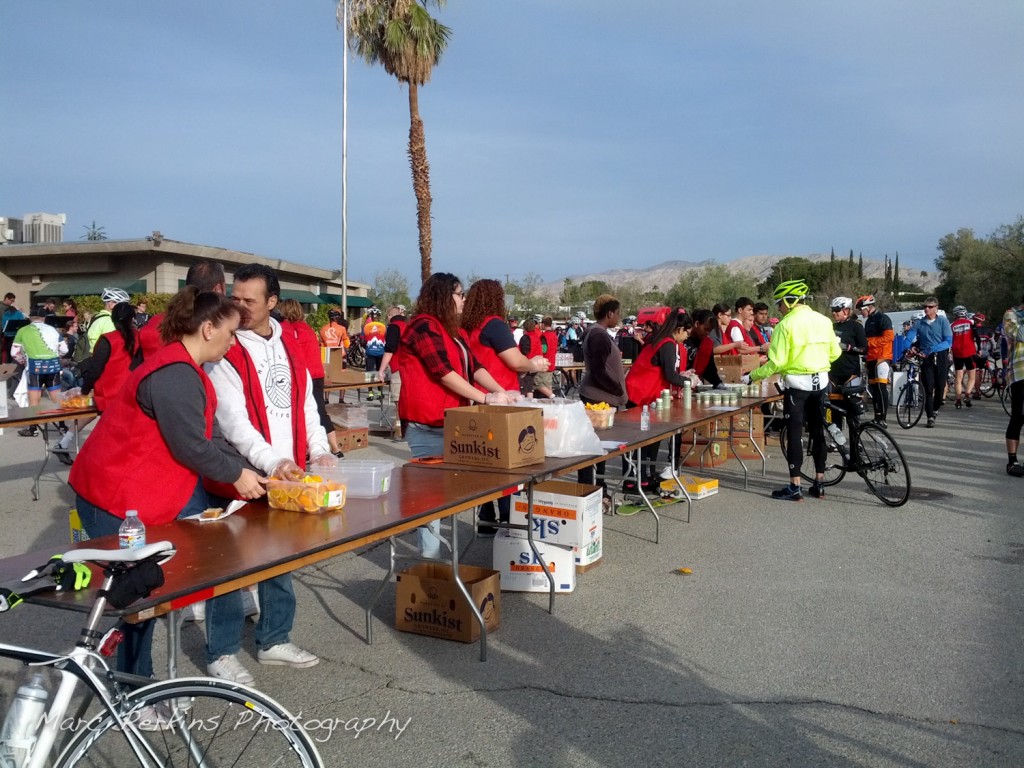 The four main Tour de Palm Springs SAGs were giant affairs that were incredibly well organized.  There were probably a hundred cyclists at each SAG when I rolled in, yet there was never a wait for anything.  Two giant rows of tables had multiple water and Gatorade coolers, and then boxes of all-you-could-eat food: PB&Js, bananas, oranges, amazingly large dates, cliff bars, and even some candy-looking-things that I didn't try.  Behind each item of food was a volunteer handing it out quickly and efficiently.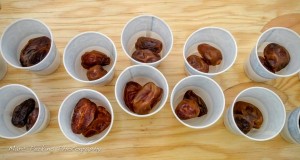 There were also rows of portable bathrooms and mechanics at each SAG.  Heck, they even had live music: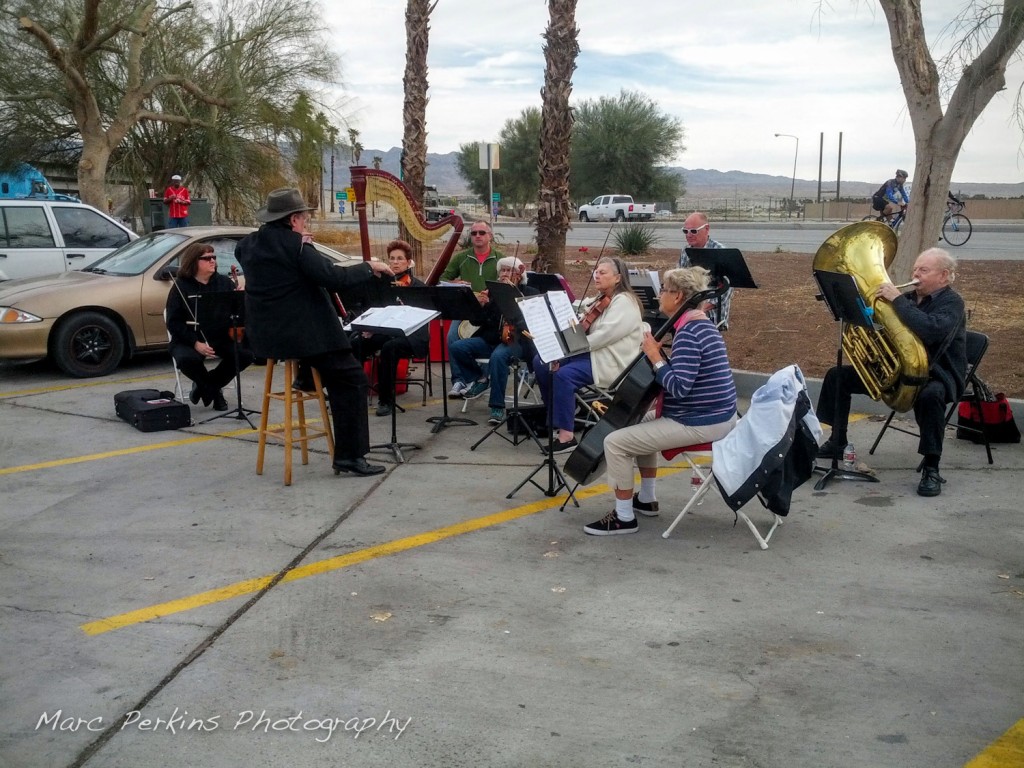 On-course support
There were  roving support vehicles (vans, motorcycles, etc.) driving the course the entire day, so you'd have help if you had a major mechanical problem.  That said, the likelihood of a support vehicle finding you right when you have a problem is low, so bring your own equipment to deal with common mechanical problems (e.g., I saw a bunch of riders fixing flats).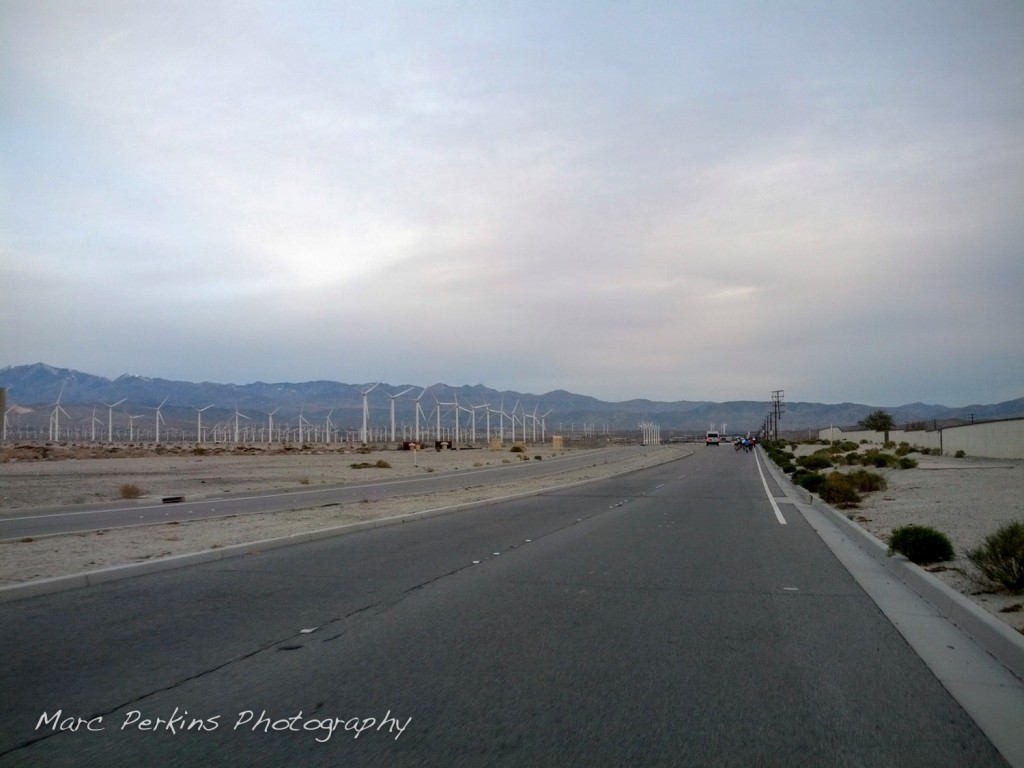 Each SAG also had a van that could take you back to the start, should you need it.
There was also a huge police presence during the ride; not only were there police at many of the intersections outside of metro Palm Springs, but motorcycle officers patrolled the route regularly.
The end of the ride
The finish line was fun: they'd once-again blocked off the street to cars, and had cones directing the riders through a little finishing area complete with cheering fans, a balloon arch, and a vintage firetruck holding a giant flag.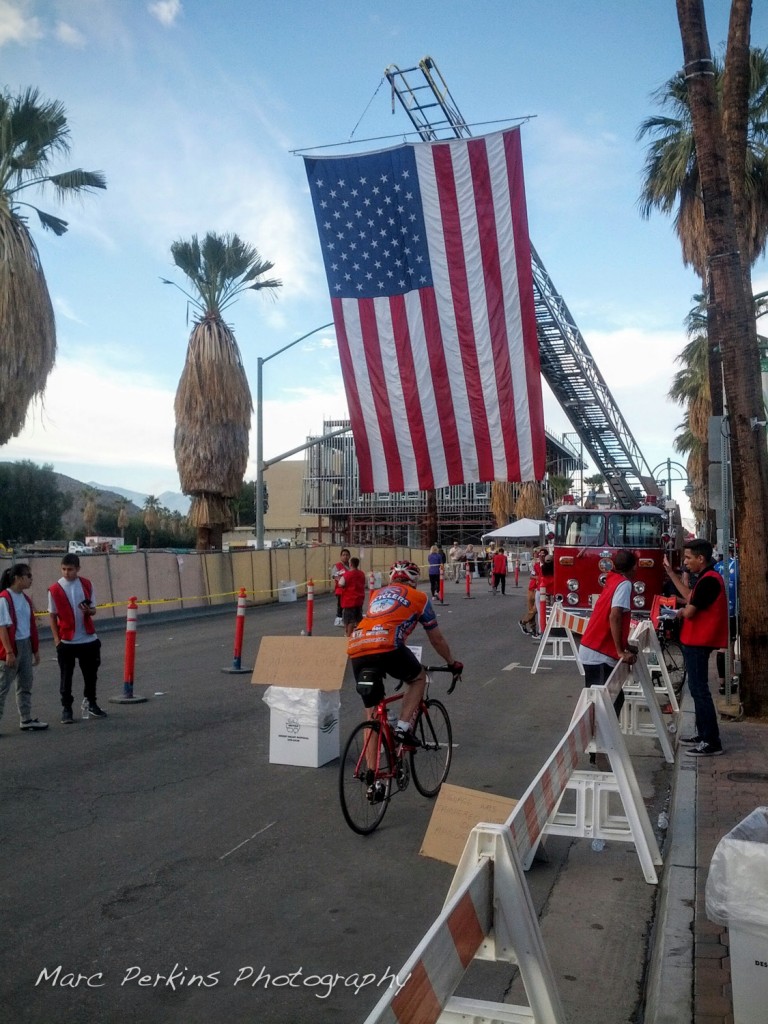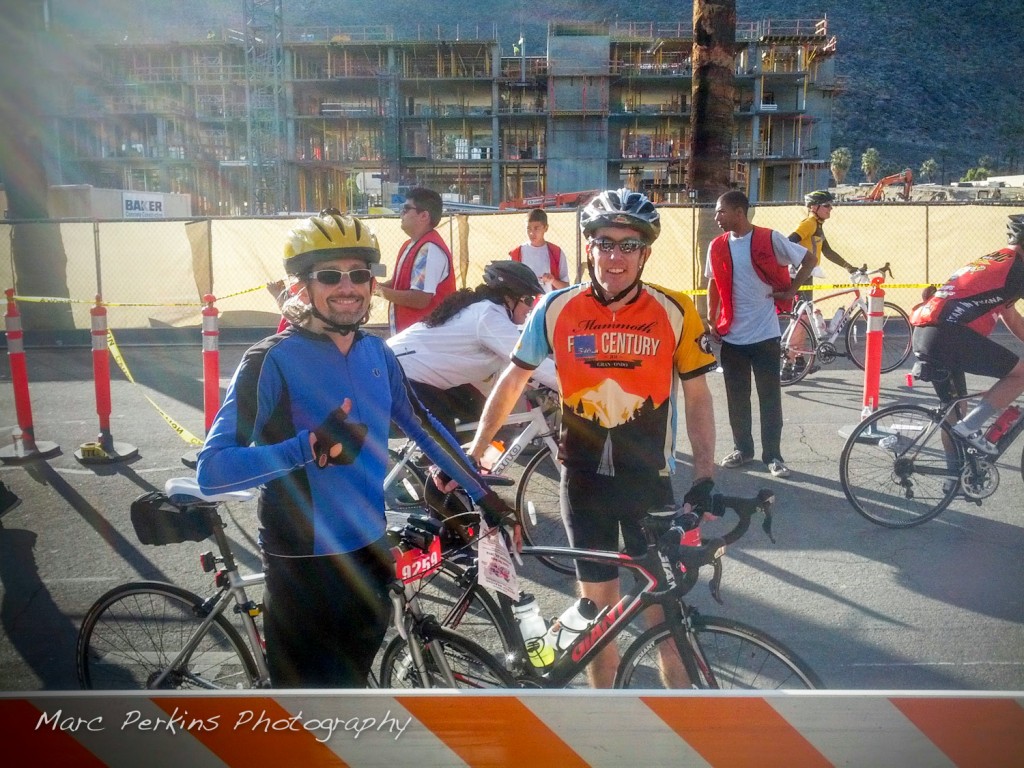 Now that I've done it myself, I've got to agree with the advice I got: the Tour de Palm Springs is a great first century to ride if you're in the Southern California region (especially with 70F weather in January).
* I followed the basic training plan ("Program 1: To Finish a Century") in Burke and Pavelka, though I didn't use a heart rate monitor.  I got a lot out of the book, and highly recommend it, though I found that their nutritional advice, like most nutritional advice for cyclists, was a bit dubious (salted trail mix and water has served me very well, thankyouverymuch).